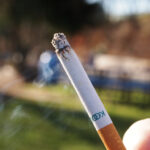 Another emergency room visit with my mom.  She's 82  and in frail health.
Today a doctor told us only ten years of smoking can set you up for a massive fail later in life.  Heart problems, lungs decrease in efficiency and eventually can stop working.
For all of you smokers out there…quit.  Suck it up and quit.  Cause that cigarette is not as good as your next breath.  Become unaddicted.  Quit.  I don't want your kids to be sitting by your emergency room bed praying that you can get one breath.
Put it down.  Your life may depend on it.