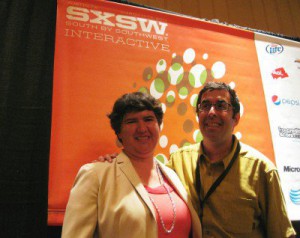 Barry Moltz wrote about 12 predictions for 2012 over at Open Forum.   I tweeted and facebooked that I agreed with most of them.  Like any good blogger, Barry asked me what I didn't agree with.  I propose that small business in cities like New York, Chicago, even Dallas are different from small businesses in rural areas with towns that average between 2,000 and 10,000 people.   My answers to his predictions are predicated on communities smaller than 50,000 people – and that is rural America.
There won't be a double dip recession.  The economy is recovering, or better said for here in the rural areas – we are learning how to survive in this current economy.  We are already learning how to be more comfortable – we're cutting hours of staff, not buying as much inventory, and purchasing what is useful and needed – not wanted.  We've gotten creative with our marketing and thank God for social media.  We know that business growth will be steady, it has to be – we have families to feed and dreams to pursue.
Health insurance rate increases will be less.  Most small businesses in my neck of the woods have a husband or wife who works a "traditional" job and carry insurance for their families.  It's more than they can really afford, but less than if a catastrophe happened.  If the owner is over 65, the donut hole has shrunk and now they only have to really worry about high costs for 1 or 2 months instead of 3 or 4.  There are small business owners with less than 3-4 employees – and a lot of them – who carry no insurance at all.  It's either pay your employee or pay your insurance.  (Please notice I am speaking from personal experience of owners in my neck of the woods – but I hear these things in all the small towns I go to.   I'd be very interested to hear the numbers and statistics about this.)
Obama will win the election.  Okay, the democrat in me says "of course he will."  I just don't see any serious competition from the other side – and anyone that might get elected is not concerned about small business.   Sadly, many small businesses are not hiring – they are working on getting by.  So any tax cuts to help hire are not taken advantage of here.
Unemployment will improve slightly.  Fortunately, Iowa's unemployment rate is 5.7% – below the national average.  We are seeing a growth in entrepreneurial business – because people have been out of work for so long, they have to do something.  It's also reported that more young people (20 to 35) just start their own businesses instead of fighting the rat race. We also see more work from home opportunities taking hold – Tupperware, Avon, Watkins, Melaleuca for example – all create reliable secondary income.  Often it's enough for mom to stay home and avoid child care costs.
Banks still won't lend money.  Agree with you totally here.  One nice thing in my town, we have three locally owned banks and it makes a big difference doing business with someone you REALLY know.
Sales will rise in most consumer sectors.  Agree here as well.  Business owners have gotten smarter and manage their inventory much better and provide value/service before it's asked for.
Fuel prices will still rise.  Good Lord, it's a circus.  In one day we've seen it go from 2.98 to 3.39.  Ironically, it seems higher around the driving holidays – and frankly, with these gas prices most of the holidays are ones you drive for.  Long trips over days have been reduced to day tripping. This is actually a bonus for small business – how can they meet the needs of that kind of traveler?
Stock market remains volatile.  Agree again.
Housing market will remain flat.  It's still a buyer's market in rural Iowa.  Unless you are buying land, and for some wild reason, we've seen $15,000 to $20,000 per acre.  Great news for sellers.
Social media sites grow, but Google+ becomes stagnant.  Social media is the new marketing.  Learning to respond to and anticipate customer's needs and wants is critical.  If someone thinks they can shout out what they have and be taken seriously – they are in for a surprise.  Facebook is a common means of communication in rural communities; it's the new party line.  Google + — I'll hold my remarks.  I don't see many of my local friends using it, but hey – it's Google.  The chance it can be better and more useful for rural areas is a strong possibility.
The "Occupy" movement will expand online.  There are no secrets online.  If your company sucks, people will tell others about it.  We just had a big brewhaha over customer service at the local Dollar General.  It spread over Facebook and everyone is talking about it.  Here's a chance for DG to make a change, we're waiting to see if that will happen.  Also, our farmers and farm corporations are watching very closely what is happening in their arena.  They will not be ruled out.
"Deal of the Day" website offers will slow.  Funny, our towns are too small for those websites.  However, smart small business owners have paid attention and do offer deep discounts out of the blue for just one day – and we see it on Facebook and twitter.
Back story:
Becky McCray (featured in picture above taken by Sheila Scarborough) is writing a book with Barry Moltz called Small Town Rules.  It will be available very very soon.  Becky and I have shared the stage at several 140 Character Conferences, the original Hutch Bloggers tour found us both on it, and we've even shared an apartment for a week in New York.  She's a friend, and I pay close attention to the people she follows, works with and listens to.  Barry is one of those people.  He's on a google alert in my reader.  He's also a really smart guy.  Now … you know the rest of the story!