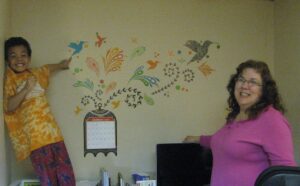 There's a store called Cornerstone Cottage Kids.  It's for parents who want to buy cool, educational stuff for their kids.
But it's also for grandma's who need things at home, want their grandkids to help them and play with them — and have figured out how to have both at the same time.
This picture has Keri – the grandma, AJ the grandson — and a sticker calendar from Cornerstone Cottage Kids.  It took about an hour to put it all together.  First they had to decide on the perfect layout.  Then AJ had to stand on the desk and say "here Grandma, let me take the eyes out of the birds."  Next Grandma had to show him how to put the stickers on the wall.  Then AJ went crazy and made this most beautiful ever design.  From a $16.95 poster.  You can't buy that amount of fun!
This post is part of an ongoing Project called Project 52.