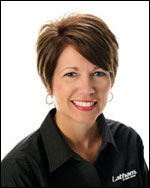 Partnerships are a great way to get things done.  I'm working with a group here in Franklin County that include a seed company, a small business owner, a bed and breakfast owner, a member of the soybean association, a marketing company (me), and a winery owner. We meeting every couple of weeks to discuss what we as residents and businesses in the county can do to grow our businesses and attract more consumers.
I spoke with Shannon Latham, of Latham-Hi Tech Seeds in Alexander, Iowa.  She's a member of our partnership team. 
Shannon, I know you are involved in the Girl Scouts with your daughter.  How do you see the Girl Scouts helping to build up our community?
 One way is to tap into local organizations that are working along a similar path.  Interestingly enough, the new Girl Scout handbook (at least for Junior Scouts) says you can "make a walking tour for your community."  The Girls Guide reads:
If people appreciate places, they will want to take care of them! Find out about the history of some buildings in your community.  Put together a pamphlet that tells what you've learned, along with a map that locates the buildings. Give your pamphlet to friends or to your town's visitor's bureau.
As the Junior Girl Scout leader for West Fork, I'd gladly have my troop help on fulfilling this requirement for Sheffield.  I'd even be glad to contact fellow Girl Scout leaders in other communities within Greater Franklin County.  That's one way to make a difference.
Another option Girl Scouts have to earn the Girl Scout Way badge is to "improve part of your community."  The guidelines read:
Get permission from the person in charge of a park to leave it better than you found it.  Maybe your Junior group can "adopt" the park for a season and pick up trash, sort recyclables or weed and water plants every week.
I believe one could interpret "park" loosely to include Harriman-Nielsen (which provides a great opportunity for cross-generational leadership) or the Old Stone House.  Recruit one troop to adopt a specific historical place and help maintain it for a season. Then when these groups hold events, the Scouts' families are more apt to come and invite others to join them at the event because they feel some ownership toward it.
The really great thing about this is that it doesn't cost money!
I truly believe our Tourism Committee or Promotions/Marketing Committee of the Chamber can serve as a catalyst for involvement countywide by a larger group of people, working toward one united goal of inviting people to their "home county."  It also accomplishes the goal of increasing awareness of local residents to the number of opportunities available to them right here in Franklin County.
Shannon – talk to me about partnerships and collaboration.
Another idea to foster collaboration is to give members a reason to work together. I realized that small business owners need examples of how they can come together and apply for Tourism Grants.  Donnis and the Country Heritage B&B could partner with Town's End winery to provide a "Sweetheart Deal" for folks traveling to Franklin County during the month of February.  They could put together a "one-priced package deal" that would provide them with ideas (and coupons) for local specialty shops; dinner for two at Ridgestone; wine tasting on Saturday at Town's End and boat rental.
Another idea is to put together a "Christmas in Franklin County" package.  Somehow we need to help bring together Franklin County business owners to create a "package dealers" that could include:
One targeting families: Carlson Christmas tree where kids can feed the animals and run through the trees.  Even if a family isn't able to transport a whole tree, they could buy greenery and wreaths), Cocoa with Santa at Cornerstone Cottage Kids, etc.
One targeting couples: Make your wreath at Carlson's Christmas Tree Farm, wine tasting at Town's End, tickets to see "A Christmas Carol" (I realize this would require reserving a few tickets specifically for this purpose because otherwise it will sell out), etc.
These are just a few top-of-mind ideas that would only get better with input from more people.
Our partnership group will be creating many new ways to work together and market each other — what kinds of things could your community do? 
A little more about Shannon Latham:
Shannon Latham is one of the principals of Latham Hi-Tech Seeds and serves as the company's vice president. She is responsible for the company's marketing, communications and event planning. Prior to joining the family business in 2005, Shannon operated her own communications business for two years. She also worked for six years as an account executive and public relations specialist for The Meyocks Group in West Des Moines. Other previous work experience includes serving as agricultural program coordinator for the Iowa Department of Agriculture & Land Stewardship where she did public relations for the Beginning Farmer Loan Program and coordinated the Iowa Agricultural Youth Institute (IAYI).  In addition, Shannon served a two-year stint as director of legislative affairs for the Agribusiness Association of Iowa where she coordinated grassroots lobbying efforts.
Shannon earned an MBA from the University of Iowa and a B.S. in Ag Journalism / Public Service & Administration in Agriculture from Iowa State University. Active in civic and professional organizations, Shannon is an active member of the Tourism Committee for the Greater Franklin County Chamber.  She has served as a Girl Scout troop leader since 2007 and as Cub Scout Den Leader since 2009.  She recently finished a three-year term as a Trustee for the Iowa 4-H Foundation, as well as on advisory boards for the Iowa Small Business Development Center and the John Pappajohn Entrepreneurial Center at North Iowa Area Community College. In addition, Shannon has served as president of the Iowa Chapter of National Agri-Marketing Association (NAMA).