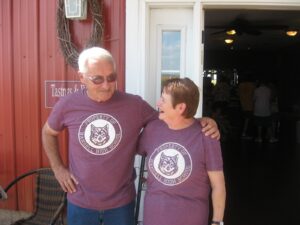 TownsEnd Winery is a little, family owned and operated operation located in Hansell, Iowa.  It's also a small town success story.  I've written about them before and today I want to show you how they've partnered with other small businesses in North Central Iowa.
September 1 and 2 was the 2nd Anniversary of the TownsEnd Wine Release.  The Harper family (mom, dad, sons and daughters) had a couple of new wines this year and planned a release around those new wines. Black Raspberry was my favorite of the day – what a perfect dessert wine!  But they didn't just invite a bunch of people to taste the wine.  You can do that just about any weekend.  Instead they invited some friends who happen to own some kind of crafting small business.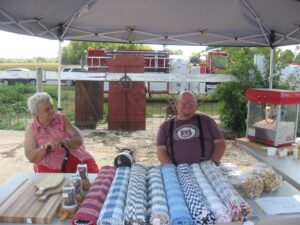 Rich and Joanne Young – They make rag rugs.  Rich takes old rags, tshirts, bedsheets – whatever he can find – and works them into rugs.  These rugs are sturdy, beautiful and a small trip back in time.  Immigrants brought this technology with them when they came to the United States.  The Arts and Crafts movement of the 1890-1920 time period brought about a larger awareness of the rag rug.  Traditionally, it was the thrifty who made rag rugs.  During the Depression, many people did this – because they had to.  Today, you can find them mass produced in big box stores.  You won't, however, find the kind of handiwork a local artisan will put into the product.  Along with that skill, comes a product that lasts.  Contact the Youngs by calling 641-456-3092.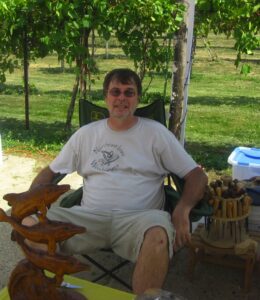 Jerry Cufr is the president of the Waterloo Whitler's Association.  He's also quite an artist.  Whitling wood has been around since caveman days and many consider it a form of meditation.  To take a chunk of wood and transform it with a knife into a piece of art is a craft that many enjoy.  Jerry showed us some of his work, his large selection of tools and answered all my questions.  It was simply a great day for him to be sharing his knowledge with anyone who wanted to know more information.  You can reach Cufr's Whittlin' and Workshop at 319-961-0222.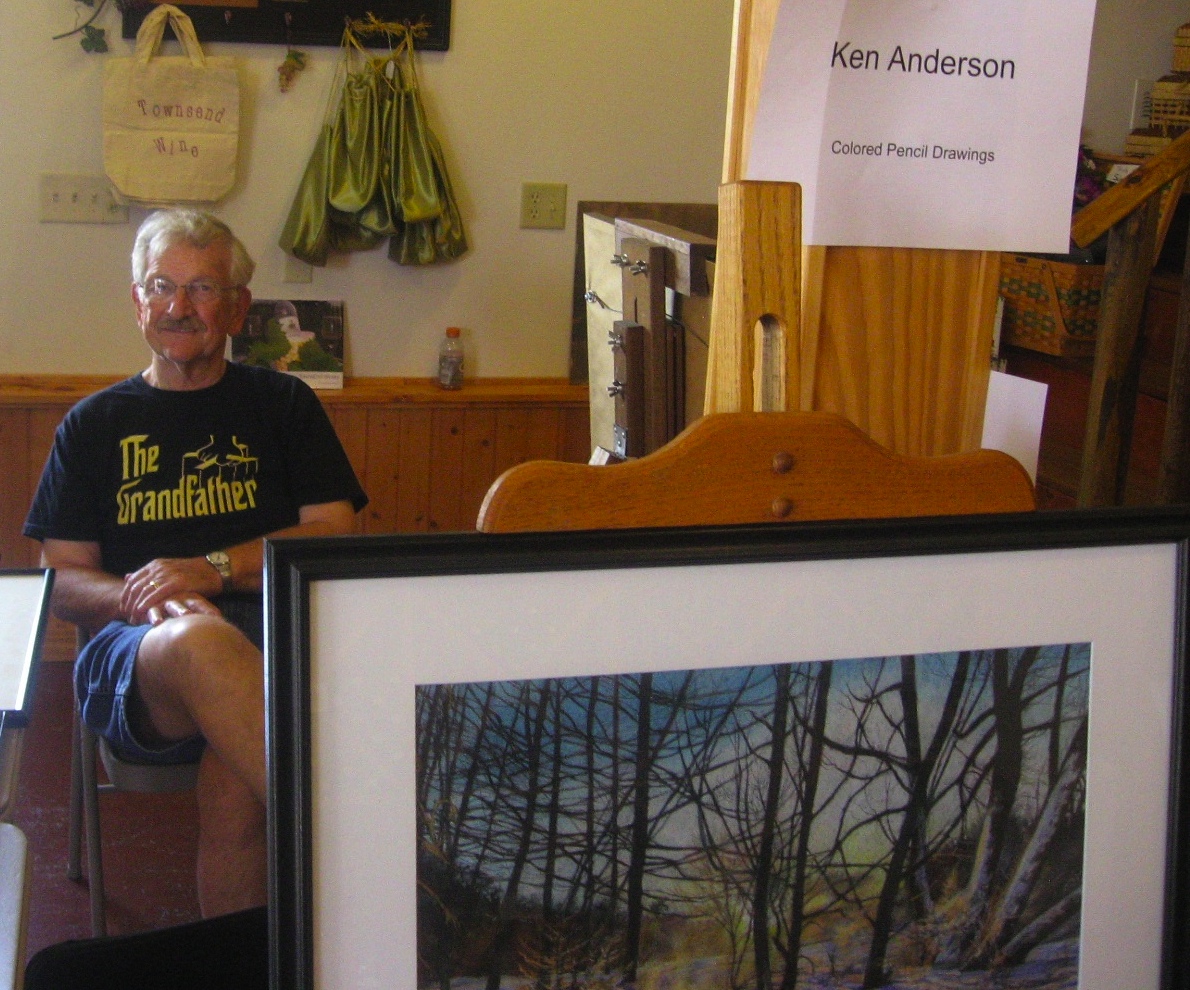 Ken Anderson has been making pictures for a long time.  He likes to travel the countryside and find old barns and then use pencils (colored and otherwise) to create a piece of art that reflects country living.  His work looks like a photograph, but in reality he has used pencils to recreate the image.  You can reach Ken at kensue5@msn.com or call 641-456-2123.  A piece of his work in your collection should be a requirement for those who collect local art.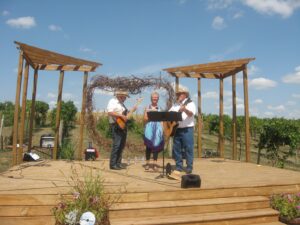 A day in the country would not be complete without a little music.  Sunday, Two Juhls and a Gem performed some old time country and gospel.  They are a local staple in the area, and often called on to provide music for various events around the county.  The Two Juhls are Dawson and Terry Juhl.  You can also find Dawn Groskruger (the Gem) every second Sunday at the Windsor Theatre in Hampton leading an old fashioned Sing Along.  They can be reached by calling Dawson at 515-448-5284.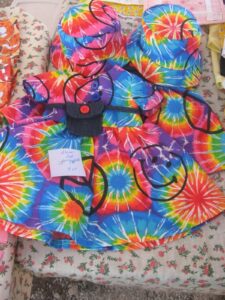 Angie Dannen retired from her job and decided to do what she loves — sewing clothes.  Her hand made childrens clothes are practical, affordable and simply darling.  I asked her if she had a website and she said "when I retired, I left all of that behind. I wanted to get back to a simpler way of life."  She also makes quilts and can be reached at 641-892-4771.  This set is a hat, fanny pack and dress — for $8.  Yup, that's right.
Windy Ridge owner Angela Scanlan has been making soap and oil enfused goods for years.  When someone gave her $50 to make a product for her, she had that aha moment "I can make money doing this!"  They make natural bath and body products that smell good, work and are as natural as possible.  You can see more at www.windyridgehandcrafted.com Angie has figured out how to merge old with new – she makes the things mostly by hand, but promotes online at her website, facebook, and email.  If you have questions, just pick up the phone and call her at 319-464-5198.  Windy Ridge is near Parkersburg and named because the property sits on a ridge overlooking Beaver Creek Valley – and it's always windy!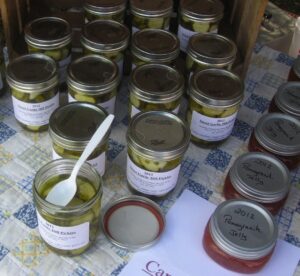 I love rhubarb, so when I saw Deb and Greg Keller,  I knew I'd be in for a real treat.  Deb makes a lot of jams and rhubarb is one of them (had it for breakfast this morning).  Deb and Greg are the owners of Thistlewood Manor and very active in living a local lifestyle.  Deb sews, weaves, and makes all kinds of cool things.  She also cans, gardens, sells at farmers market and they live off their land.  Both of them are active in SCA (historic reenactments) and Deb cooks and sews for these events all over the Midwest.  You can find her soaps and other items, along with her contact information, on her etsy site: http://www.etsy.com/shop/thistlewoodmanor.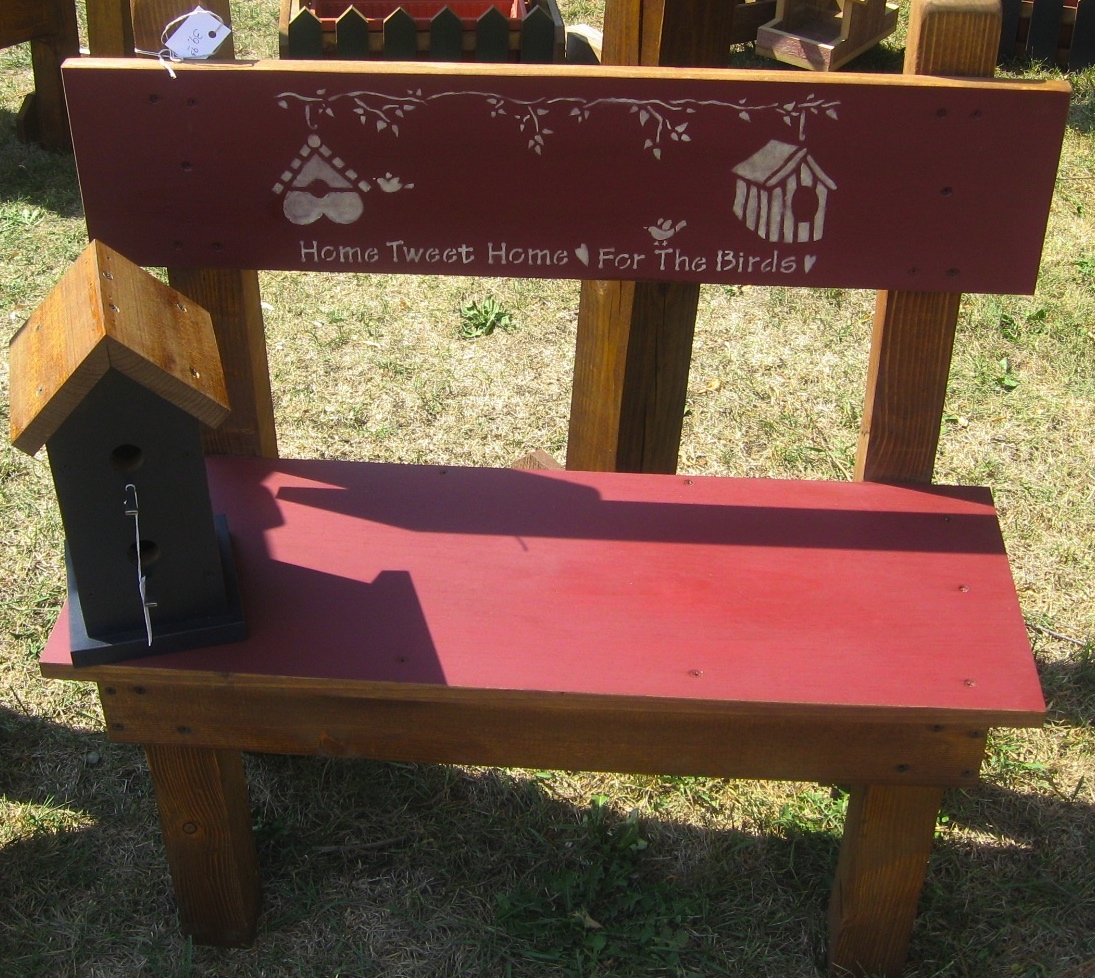 Country Calicos is owned by Merlin and Mary Obermeier.  They were displaying handcrafted wood products underneath the willow tree.   There were planters, benches, bird houses and more.  Merlin wasn't too keen on having his picture taken, but he did enjoy showing off his products.  They are located in Clarksville, Iowa and can be reached at 641-228-0919.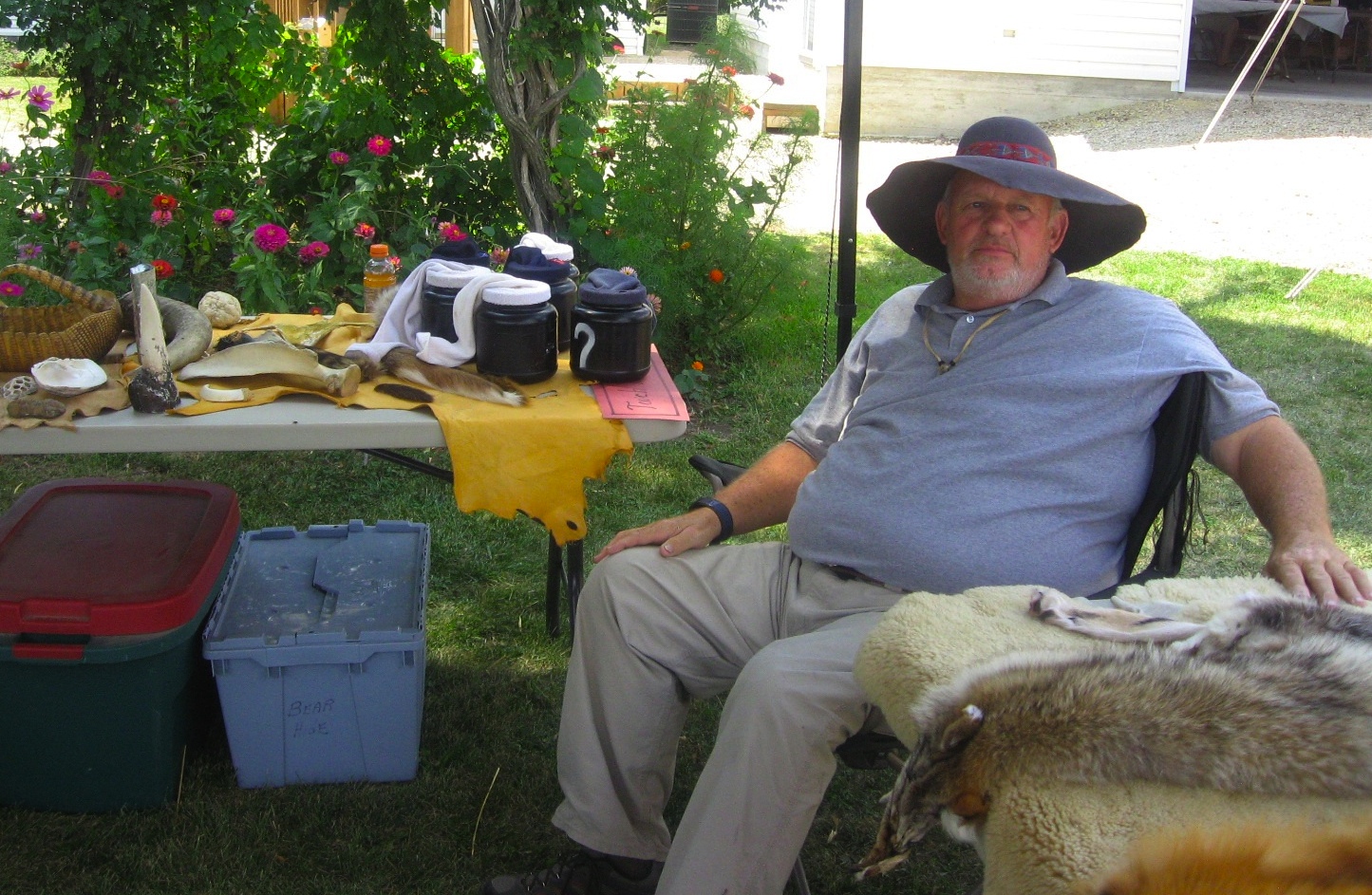 Dennis Carlson is a retired DNR man.  The Carlson's own Carlsons Tree Farm.  They have built a lodge on their farm, invite groups in to use it, conduct tours, sell Christmas trees and related products and are a family run business.  Dennis loves kids and spending time educating them on wildlife and the outdoors.  Today he was here with many animal skins, bones and surprises.  In those black buckets with a white tube sock over them are 'things'.  My 2 year old great niece Natalie reached into one and touched a toad!  She was thrilled, her mom – not so much.  Dennis didn't have any Christmas tree products or brochures on their lodge information or wheat products his wife makes — he was just there to entertain the kids.  Sometimes it is a good idea to just have fun!  You can find their Facebook page here.
You can visit TownsEnd Winery online here.   We love their local wines and encourage you to take a visit and try them out!