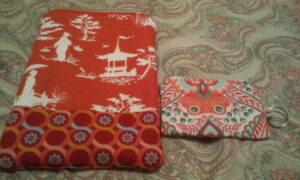 I was surfing Facebook one night and ran across a picture of an extremely cool, hand sewn bag — asian inspired, padded, perfect for an iPad.  JUST what I needed!
It was on sale on the Thursday night special, on an etsy store called Shaggy Baggy.  I went to the website, browsed for a long time, and finally ordered.  It was hard to choose!
Then I went back to Facebook to see what else was going on in her store.  Come to find out, on that special I should have gotten free shipping.  I made a comment on facebook 'dang, sorry I missed the free shipping'.  Less than an hour later I got a refund on PayPal of my shipping cost!  And I got the bag 3 days later.
The owner is Sharon Schneider from St. Paul, Minnesota.  Her etsy shop can be found by clicking here.  She's on Facebook as Shaggy Baggy.  I'm in the process of interviewing her for a longer post – I just didn't want another day to go by without sharing with you this small business!
Welcome to Small Biz Friday – where we feature a small, local business doing things in a smalltown kind of way.  Don't be thrown by the word smalltown – it simply means they've learned how to develop relationships with their customers, take good care of them and treat them like family — it's what we do in small towns.