I switched to the iPhone a year ago (or so) and it's made my life a lot less complicated.  One of the reasons, beside the touch screen that is similar to the iPad, is the abundance of apps.
I use a couple of photo apps.  First there's Snapseed.  You can take any picture, adjust the shadows, ambiance, contract, brightness and clean it up .. a lot.  It's easy to use, and free.  There's a couple of cool filters on it too and the opportunity to share on your social networks.
Next I have Waterlogue.  I think I paid a couple of dollars for it.  It is just for fun.  You choose one of your photos and it turns it into a watercolor painting.  You can choose one of several filters in a water color format.
You may use Instagram and that's a fine place to share photos.  I do as 'DebrainIowa'.  I also use Instaquote.  I paid a few dollars for it (there is a free version too) and you can upload photos and add a quote to it.  I take a lot of pictures and put them in a file called backgrounds and use those for quotes I like.  But I can just as easily upload by coach Randy and his daughter Grace and add her name!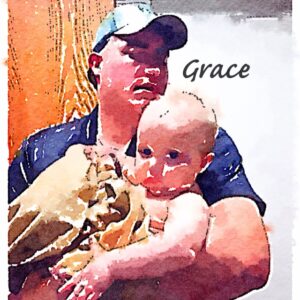 Photo apps are fun for me.  I like to take pics but I'm no photographer.  I just take pics.  These apps add a little flair and make them look much better.