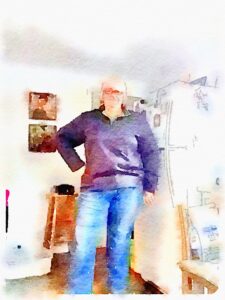 This was a week!  I put a lot of ice, heat and Painatrate (soothing lotion) on my knee.  Sunday I could barely walk and by Friday it was much better.  Pretty sure nothing broken, just bruised and pulled.  I spoke with my trainer several times and he encouraged me to NOT use it during exercise and to concentrate on other things.  So let's talk tools.
Tools
My Fitness Pal
— it's extremely important this week with very little exercise.  I've averaged 1600 calories (good) each day.  But my protein for the week has only been 18% – not good.  Eating way too many carbs.  So now I'll reduce carb intake and increase protein intake.  I thought I was doing good by keeping calories in range, but your fat/carb/protein ratios need to be good too.  This little free app gives lots of information and tracks calories, exercise, food and more.
CamMe
– the new app that takes hands free selfies.  And let me tell you, it's wonderful!  You set it up, strike a pose and use hand signals to make it work.  It's free and now is the time to take a picture of yourself once a week.  You'll be blown away at how you change over the course of several months!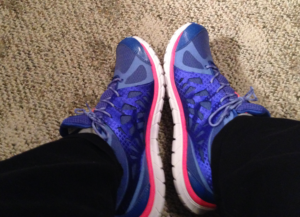 It's a synthetic and mesh upper, so that makes it lighter.  It's very stylish and actually holds onto my foot so it doesn't slip around in the shoe.  It makes for easier walking on the treadmill. I originally got an email asking me if I'd be willing to try them out and write about them.  Fat chance I thought.  I wear a size 11 wide on a good day.  Most of these 'fancy' places don't carry shoes that size.  Imagine my embarrassment when they said they did!  So two weeks later I was wearing the blue Precision.  I've worn them all day at work, and my feet don't get tired.  I've worn them in strenuous workouts with Randy my trainer – and they hold up to the pressure I put on them.  Ryka has been making shoes for women for 25 years.  We just don't need a smaller shoe than a man, we walk and run different and Ryka knows that.  They have a narrower heel, roomier forefoot, and a more secure footbed.  And they belong to the Brown Shoe Family!  Reasonably priced and a thumbs up from this new fitness girl. 
Just a note:
I received the Ryka shoe free from the manufacturer.  I am not being paid to write these blog posts.  I have been asked to give my honest review of the product.