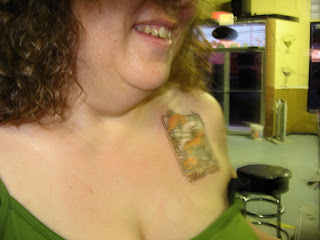 Yesterday I talked about what my tattoo looks like.
Now, how did I choose who would do my tattoo?
The most common way people choose their artist is by word of mouth. You've seen someone's tattoo and really like it. That held true for me as well. My neice has a tattoo I really like so I asked her who did it.
Izzy at Lasting Impressions. I called and made an appointment for early June. My friend and I were both going. About a week prior, our schedules changed and we needed to reschedule. So I called again and talked to Katie.
The only day we could go was on a Tuesday. Katie does her job well. Izzy is off on Tuesdays. However, she informed me Jameela is one of the best tattoo artists she's ever seen. Katie talked about her work, her love for the art and personally recommended Jameela's work.
I'm a feminist at heart, and believe as women we need to support each other. I made the appointment with Jameela.
Jameela is indeed a talented artist. She also lived in Athens Greece for a number of years and was able to verify my words were correct, and she drew out the tattoo freehand and it was perfect. Jameela did Keri's tattoo (see part of the process in the picture). It took longer than expected and she had to pick her brother up from the airport.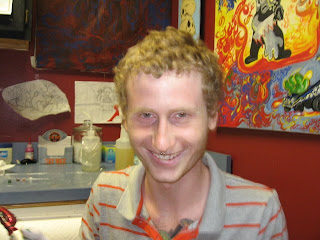 She gave me a choice: wait until tomorrow or have Taylor, her protege, do my tattoo. Wow! I'd waited and finally made up my mind, drove 50 miles and now my artist can't do it! My reasonable brain understood her reason. My nervous brain was freaking out. I had seen Jameela's work, but who is this Taylor ? What about my decision to support the women of the world? All that synchronicity was flying out the window.
I thought about what my tattoo was going to say. Peace. Be still. I took a moment and calmed down. I then went and looked at Taylor's work (all good artists have a book with pictures of their work). I already had the design drawn up, he would be just doing the tattoo. I said yes, Taylor can do it.
It turned out just fine. Taylor was patient, took time to answer my one million questions and did the procedure as painlessly as possible. I do love my tattoo.
Now let's look at the process and see where we can overlay it onto other areas of our lives.
How To Make A Good Decision
1. Look for examples of what you want, and then ask for referrals.
2. Be flexible, being rigid often requires going against the flow.
3. Don't freak out. Take a minute or two to step away from the situation, get calm and then decide.
4. Be thankful.
Lasting Impressions
114 Welch Avenue
Ames Iowa
515-296-4642