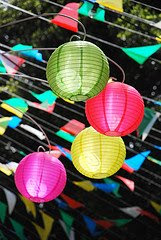 There's a good saying "if you can't beat 'em, join 'em".
I live in a county of 10,000 people and most everyone knows everyone – or at least their families. Branding is real important out here. Also, people want to see you can stay in business and are trustworthy before they buy from you.
My friend Denise is an independent Watkins associate and our mutual friend Michelle is a representative for Tupperware brands. Both of them are Melaleuca customers. I know how important it is to both of them to be seen as the great businesswomen they are, representing a great product. They are doing their homework on building the brand and being their word (building trust).
The three of us decided to throw a party
.
Tuesday June 30th at the Geneva United Methodist Church from 6:30 to 8:30.
Denise will cook using Watkins spices (and she is a great cook!). Michelle will show how to store the cooked products with her Tupperware. And I will show how to clean up with non-toxic Melaleuca products.
We chose a location that can be intimate enough if we get a small turnout, or large enough and everyone can see and hear if we get a large turnout. I've gotten 15 confirmations so far — it's looking good! The location will also be easy enough to clean up and everyone knows where it is.
We chose a weeknight because its summer in the country. A lot of people go camping or out of town for the weekends. There are baseball games, municipal band concerts and other events – but that is everyday. We did our best to find a date that works for everyone.
We decided it would be a party, a lot of fun and no stress. If we get new customers, that's great! It's all a part of our branding strategy — give people a chance to see who we are, what we do and how we do it.
What are you doing Tuesday night at 6:30? Why not stop on over?