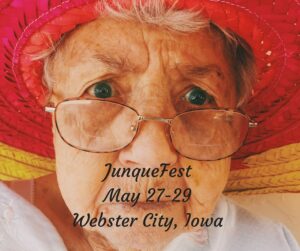 The Webster City Area Chamber of Commerce has been planning all year for the third annual JunqueFest to be held at Wilson Brewer Park May 27th through May 29th.  The park will be jam packed with over 80 merchants from all over the state and as far away as South Dakota, Nebraska and Illinois.  There will be items ranging from barn wood, primitive, vintage, yard art, rusty, architectural salvage, artisan painted products, metal, handmade, and some crafts.
Co-organizer Mike Constant of Iowa Antique Network says "This has been an exciting time, showcasing Webster City to so many vendors and visitors! We've got visitors come from Iowa, Missouri, Nebraska, South and North Dakota, Minnesota, Illinois — Memorial Day Weekend is a fine time to be in Webster City.  Rain or shine – we'll be junqueing at the park."
Hours are:
Friday 1-7 pm
Saturday 8 am- 6 pm
Sunday 9 am to 3 pm
There will be food for sale available at the park and the Chamber promises a wide variety of tantalizing selections from local favorites.
Brick Gypsy Wood Fired Pizza​
Cloud Nine Cotton Candy
Fire & Ice Delights
Grid Iron Grill & Sports Lounge
Hy-Vee Grill
Mornin' Glory Coffee Shop
Sweet Treats Ice Cream
Live music is another fun addition all three days.  Clint Riedehl, the Wright County Rambler, will be performing Friday from 4 to 7 pm.  Saturday afternoon from 1 to 4 pm CPR, a local favorite group will join in the fun with tunes from 50s, 60s, 70s including rock 'n roll, classic rock, and country favorites.   Local singer Ricky Nelson will join CPR on Saturday for a few songs.   Sunday morning CPR will return with gospel music from 10 to 12.  After lunch CPR returns and spends the rest of the day singing whatever the audience wants to hear!  Band members include: Bob Weieneth, Tim Bervin, Charlie Abbott, Tony Halsrud and Bill Robb.
Deb Brown, Chamber Director, says "We're pretty excited for JunqueFest.  There's opportunity to shop, to eat, to listen to great music, to people watch, to check out our history – really, something for everyone.  Why go to another barbeque this Memorial Day?  Come to JunqueFest, let someone else cook and just have a good time here!"
Parking will be available just east of the park, across the tracks, on the city property.  There is no charge, and you are responsible for your own vehicle.  Southfield Wellness Community is providing a free shuttle for those who don't want to walk back and forth.  There will also be no parking on Ohio Street from Superior east to the railroad tracks. This is because the street must be kept open for emergency vehicles.
"The city has been working with the Chamber to ensure JunqueFest is a successful event.  We don't anticipate any emergencies, but we do like to be prepared just in case.  We thank the community for their understanding.  See you at JunqueFest!" said Kent Harfst, interim city manager.
You can see the listing of all the merchants at
www.junquefest.com
; there's also JunqueFest Too right across the street with some of our local direct marketers and crafters.
"Many of these types of events charge attendees to come.  We don't.  We've said from the beginning we wanted to keep this event free and thanks to our vendors and our sponsors we've been able to do that.  Estlund Heating and Cooling, The Trashman, Hy-Vee, KHI Financial Solutions, Hawkins Industries, Shopko, Neighbors Heating and Cooling, Woolstock Equipment, My MedMart, and Southfield Wellness Community all stepped up to the plate and said let us help, let us be sponsors.  We are thankful to be in Webster City and hosting this event in our home town.  It really is a great place to live and work!" said Deb Brown.