Joseph Minicozzi, AICP is the principal of Urban3, LLC, a consulting company of downtown Asheville, real estate developer with Public Interest Projects. Prior to creating Urban3, he served as the Executive Director for the Asheville Downtown Association.  I got to see Joe speak at the Downtown Summit in West Des Moines in August 2015.
What he said was pretty simple, yet amazing to believe.   Now keep in mind these are numbers from a larger city, but they still correlate to our small towns (just with smaller numbers).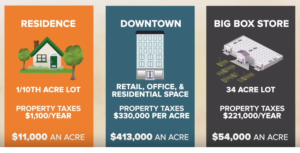 There is more revenue for the city in taxes on downtown development than on residential OR big box stores.
Now let's take another look at city costs.   Again -very simple.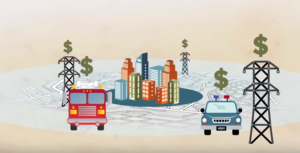 The more spread out a city is, the most it costs the city to provide services.  Streets, electricity, sanitation and more — all that costs money.  It just makes sense to develop the downtown you have, doesn't it?
So the question now is, what are you doing to create a vibrant downtown?  It takes us all to make it work – and we saw how our community members can come together and have fun, enjoy each other's company and root for their favorite teams with RVTV.
The next step we urge you to take to start shopping at home a little more.  Try some of the businesses here first – before you go out of town.