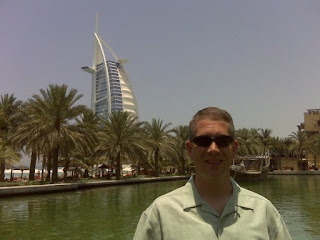 Jeff Christiansen is in Dubai for business.  It's a 14 hour plane ride, and they are 10 hours ahead of us!  Jeff has been chronicling his trip on Facebook and has agreed to share pictures and comments here with us.  We will interview Jeff when he arrives home and get all the details then.  For now, these are pictures and comments from Jeff.  Enjoy!  
Arrived May 27th.  This is a picture of me with the Jumeirah hotel in the background. All rooms are suites.
Friday morning: Visited the Mall of Emirates, Jumeirah, Al Qasr Hotel, and the beach this morning. Tonight it is Dune Bashing in the desert, then dinner in tents in the middle of the desert with belly dancers. Hmmm, this aint Iowa.
Mall of the Emirates – inside ski slope, complete with lift.  It's 110 degrees outside!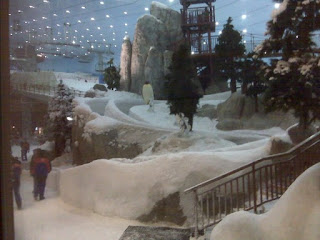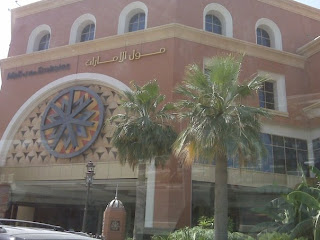 Al Qasr Hotel- This is a resort. The rooms are like villas all surrounded by water in canals, so you take a boat everywhere.  One of the villas is $10,000 a day to stay!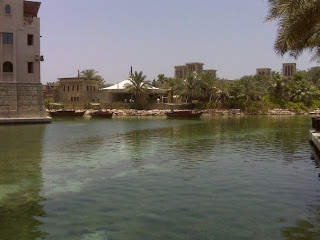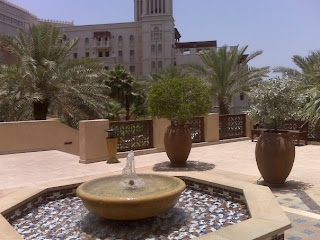 Friday evening: The Dune Bashing was great. Imagine hundreds of Land Rovers and Jeeps tearing around the dunes in the desert. I asked after it was over if they have ever rolled one… "Oh yes it happens quite a bit, that is why we have these roll bars" with an Arabian accent. Glad I asked AFTER! Dining with a belly dancer was interesting, but the food was great. Not sure what I ate other than lamb.
People watching the ATV's on the sand dunes.  The Al Ahbob desert that we went dune bashing in. Yep it is as hot as it looks.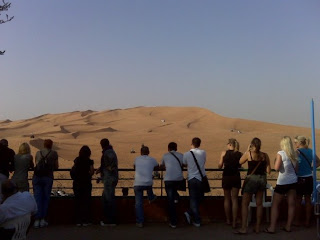 Camel rides at the camp.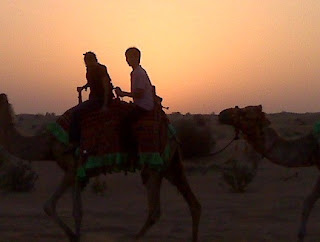 The drive to the sheik's palace was lined with these peacocks. Tried to talk the driver into
 stopping in and saying "Hey from Iowa Sheik".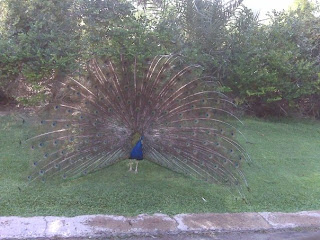 The tables we at at. This was a camp in the middle of the desert. Yep those are pillows not chairs.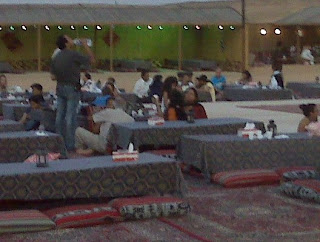 Saturday afternoon: The night was a bust. Visited the worlds largest mall… ehhh… just like any other mall, just bigger and more expensive. Went to Hard Rock… closed, wasted $30 on cab ride, finally went to Applebee's…not very good and no beer. Just about fell in a hole in the sidewalk on the way home… priceless for those watching I am sure.
Sunday night: If last night was the worst, tonight was the best. Went to Irish Village to a pub for a couple of stouts, then to Century Village to Saphire for the best steak I have ever had, and yes even Iowa beef. It was a M7 Ribeye served raw on a Stonegrill (hot stone). You cut of a slice and lay it one its side to finish cooking. Awesome! Dipped in shitake mushroom sauce. Ready for bed all fat and happy!
Thanks Jeff — we look forward to seeing you when you get home!