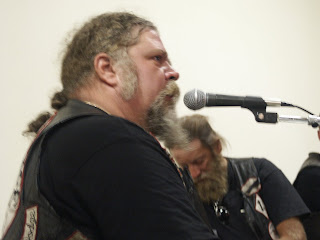 Mark your calendars for Friday, June 5, when Dago & Criminal History will come to Hampton.
 The fun begins at 9 p.m. at Coconut Lounge and Dance Club, downtown Hampton. Dago (J.M. Marchellino) has been writing and performing original works for several years. His third album, Unbreakable, was just released in April. In addition to performing Dago's original works, the band plays great cover tunes from the 70's and 80's, so there's sure to be something for everyone.
"I write honest music about life," said Marchellino in a recent interview. Hugely popular among military personnel and motorcycle enthusiasts, Dago's songs talk about freedom, fighting for what you believe in, and touching what is real in life. Styles range from country, to blues, to folk, to rock-n-roll. "I guess I've invented a genre. We call it Biker Lifestyle Music, which just about sums it up," said Marchellino. If you're new to Dago's music, you should know before starting to listen that he pulls no punches. There's definitely adult content — just like in real lives — and it's part of what makes the songs so compelling.
The newest album, Unbreakable, was recorded, designed and produced right here in Iowa. Keri Holmes from The Kaleidoscope designed the album insert. "I'm so pleased with the way this CD design turned out. I was able to incorporate artwork and photos that mean something to Dago, so there's a lot of him in there, along with a lot of me. I designed his second CD too, Heroes, Legends, Monkeys and Me, and I like it, but Unbreakable is something special. Dago continues to grow as a songwriter and performer. This is his strongest work to date, and I wanted the album artwork and format to be just as strong.
You can order CDs from Keri Holmes by sending an e-mail request to keri@ourfocusisyou.com. If you want to order on-line, you can use Pay Pal. Otherwise send a personal check for $25 (tax and handling included) to: Keri Holmes;PO Box 383; Hampton IA 50441. All three CDs are available from Holmes.
Coconut Dance Club and Lounge, Friday, June 5, 9 p.m., $10 cover charge. Be there!