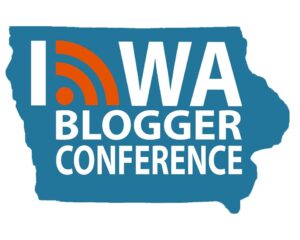 Iowa Blogger Conference is 10 days away.  It's not too late to register and attend!  http://www.iowabloggerconference.com/   It will be held at Iowa Central Community College in Fort Dodge, Iowa.
Reasons to attend:
1. It's a one day educational conference for beginners and intermediate bloggers.  You will learn about bloggers and take home a digital tool kit you'll use over and over.
2. The speakers are people you want to hear, meet and network with.  Kristen Greazel turned blogging into a business.  Cheryl O'Hern engages communities on twitter. Alicia Schmitt shows you how to use food photos properly. Libby Patton will help you organize content. Do you know the legal ins and outs of blogging?  You will after this conference.  Take better blog photos with Darcy Maulsby.  Learn about working with brands from Donna Hup.  Be a power user on social media and figure out YouTube – ins and outs.  The hardest part of this portion is deciding which breakout session to attend!
3. Networking. A good conference has valuable networking – a great conference sends you home with connections you'll use over and over.  This conference promises lots of new connections you'll use.
4.  It's local Iowa bloggers helping local Midwesterners.  And it's about time.
Did I mention I have two tickets to give away?  I'm speaking about You As A Brand – and I have two tickets to give away!  It's pretty simple – the first two people who say they want them, will receive them.  Your name will be on a list at the entrance.  In exchange, I will want to take a picture with you the day of the event, and will post it on this blog.  That's it!  So comment on this post that you'd like the tickets – the first two will receive them.  Pretty simple!  (small print, I'll want your email address so we can figure out when and where to meet on March 19)
"61% of U.S. online consumers have made purchases based on recommendations made on a blog." -BlogHer ‪