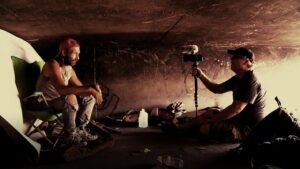 I'm sharing this press release in hopes that my readers will share it as well – and watch the special on PBS.  Everyone so often we are blessed to meet angels in real life.  I had the good fortune to meet Mark Horvath at a 140 Conference in New York several years ago.  His story has been made into a documentary on his work with the homeless.
FOR IMMEDIATE RELEASE
INVISIBLE PEOPLE BEING SEEN ON PBS
@home is a documentary that tells the story of modern U.S. homelessness and one man's fierce commitment to end it. PBS will air this documentary on March 25, 26 and 28 (see times below).  Mark Horvath has experienced the highs and lows of the American Dream, from a successful career in television to barely surviving, homeless and addicted, on Hollywood Boulevard. @home follows Mark as he finds his voice again, hitting the streets with a digital camera and a smartphone to ask homeless people about their own experiences.
"The invisible guy didn't intend to become homeless. I didn't plan on living on the street. Everyone on the streets has their own story, some made bad decisions, others were victims, but none of them deserve what they have been left with, and it is a reflection of our own society that we just leave them there. Please always remember, the homeless people you'll ignore today were much like you not so long ago" said Mark Horvath.
Mark Horvath's work has garnered the attention of social media gurus, politicians, advocates, and the American public, and he's become a respected, independent voice on this issue. It is through this lens that @home, a documentary film produced by Kindling Group, explores the reality of homelessness in America today. @home follows Mark on a cross-country road trip, as he visits communities that are springing up all over this country in tents, by-the-week motels, and storm drains — and shares his struggle to make homelessness in America visible.
Website: http://www.athomedocumentary.org
Facebook: https://www.facebook.com/athomecampaign
Twitter: https://twitter.com/home_campaign
Watch the four minute trailer @home below.

Times of @home showing and PBS Stations
EASTERN STANDARD TIME
Wednesday, March 25 at 7:00 PM
Thursday, March 26 at 12:00 AM, 8:00 AM and 2:00 PM
Saturday, March 28 at 1:00 PM ET
WEDU – Tampa, FL NHPTV – Durham, NH
WPBT – North Miami, FL WNET – New York, NY
WUCF – Orlando, FL WNED – Buffalo, NY
WXEL – West Palm Beach, FL WMHT – Troy, NY
WJCT – Jacksonville, FL WXXI – Rochester, NY
WSRE – Pensacola, FL WCNY – Syracuse, NY
WGCU – Fort Myers, FL WCFE – Plattsburgh, NY
WUFT – Gainesville, FL WSKG – Vestal, NY
GEOR – Atlanta, GA WPBS – Watertown, NY
ALAB – Birmingham, AL WVIZ – Cleveland, OH
WGBH – Boston, MA WOUB – Athens, OH
WGBY – Springfield, MA WCTE – Cookeville, TN
MAIN – Bangor, ME WKNO – Cordova, TN
WTVS – Wixom, MI WETP – Knoxville, TN
WKAR – East Lansing, MI WLJT – Martin, TN
WHYY – Philadelphia, PA WHRO – Norfolk, VA
WQED – Pittsburgh, PA WBRA – Roanoke, VA
WPSU – University Park, PA VERM – Colchester, VT
WQLN – Erie, PA
CENTRAL STANDARD TIME
Wednesday, March 25 at 6:00 PM and 11:00 PM
Thursday, March 26 at 7:00 AM and 1:00 PM
Saturday, March 28 at 12:00 PM
ARKA – Conway, AR KENT – Lexington, KY
IOWA – Johnston, IA WYES – New Orleans, LA
WTTW – Chicago, IL KWCM – Appleton, MN
WSIU – Carbondale, IL KETC – St. Louis, MO
WILL – Urbana, IL NDAK – Fargo, ND
WMEC – Chatham, IL NEBR – Lincoln, NE
WTVP – Peoria, IL KERA – Dallas, TX
WTIU – Bloomington, IN KLRN – San Antonio, TX
WVUT – Vincennes, IN WMVS – Milwaukee, WI
MOUNTAIN STANDARD TIME
Wednesday, March 25 at 5:00 PM ant 10:00 PM
Thursday, March 26 at 6:00 AM and 12:00 PM
Saturday, March 28 at 11:00 AM
IDAH – Boise, ID SDAK – Vermillion, SD
MONT – Bozeman, MT KUED – Salt Lake City, UT
PACIFIC STANDARD TIME
Wednesday, March 25 at 4:00 PM and 9:00 PM
Thursday, March 26 at 5:00 AM and 11:00 AM
Saturday, March 28 at 10:00 AM
KUAC – Fairbanks, AK KIXE – Redding, CA
KAET – Phoenix, AZ KEET – Eureka, CA
KUAT – Tucson, AZ KNME – Albuquerque, NM
KOCE – Santa Ana, CA KSYS – Medford, OR
KQED – San Francisco, CA KSPS – Spokane, WA
KVIE – Sacramento, CA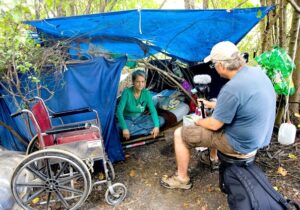 About Mark Horvath
In 2008, Mark Horvath, now known to many as @hardlynormal, set out to film the stories of America's homeless and share them with as many people as possible on his website, InvisiblePeople.tv. Since then, he has become an internationally recognized activist and ambassador for the millions of individuals and families who reside in shelters, motels, tents along the streets and under highway bridges across the country.
Mark has been featured by the L.A. Times, CNN, CBS, Mashable.com and NPR. He's spoken at a number of conferences and events, including Geneva Forum on Social Change, Blog World, U.S Department of State's Tech@State, Gnomedex, 140 Character Conference, Nonprofit Technology Conference and SxSW. The Huffington Post named him one of 11 Twitter activists you should follow. Youtube gave InvisiblePeople.tv unprecedented exposure allowing Horvath to curate YouTube's homepage for a day. Mark was the first nonprofit to speak at Twitter, Inc. In 2011, Mark was commissioned by Canadian Government to travel to 24 Canadian cities and help champion the Canadian Alliance to End Homelessness. Mark has consulted for Los Angeles Police Department, City of San Francisco, and USC Annenberg School for Communication & Journalism among many others.