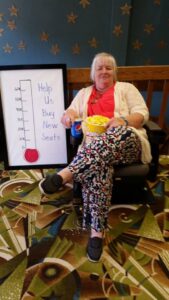 The Help Entertain and Restore Organization (HERO) board announces the next opportunity for interested businesses and individuals to support the Webster Theater.  An auditorium redecorating project, including new seats, is being planned for early fall.
"Our initial focus was on getting everything we needed to re-open the theater," stated HERO board founding member and president Jeffrey Pingel. "We've wanted to update the auditorium seating since the start of our project, but other items were necessary first."
The Webster Theater opened Friday, September 19, 2014, with state of the art Barco digital projection, 7.1 Dolby Digital surround sound, and RealD 3D capabilities. The existing auditorium seats were professionally cleaned; however, they were also installed in the 70's.
"We appreciate the initial backers who raised $93,000 by sponsoring the existing auditorium seats," said Kay Ross, HERO board member and fundraising chair. "And those name plates will be installed on the new seats to honor those contributions. But as anyone who has been to a movie in the last year knows, new seats are desperately needed." 
The cost to replace the old seats is about $60,000. HERO has saved $25,000 over the last six months to begin funding the project, leaving $35,000 left to raise.
Donors who give at least $300 toward the project will receive a star on the lobby wall. Larger stars are available for bigger contributions, as well as recognition on the outdoor sponsor signs. Popcorn buckets, with free refills through the end of 2016 will once again be offered for sale.
The new rocker-style seats were selected with comfort and sustainability in mind: Each seat is wider and sits higher than the existing ones. They are sturdy and can be wiped clean. Aisle lighting and seat numbering are integrated into the design.
"These new seats are easy to sit down in and stand up from," said founding board member Deb Brown.  "We've heard from many people that we need seats that are easier to use and that more people can fit into" Brown continued.
The plan also calls for more room between rows. To accomplish this, about 50 seats will be eliminated. The revised layout shows 250 seats, room for two additional wheelchair spaces, and 8 specially-designed aisle seats that provide easy accessibility via flip-up armrests.
"So about fifty of our existing seat sponsors will have their seat plaques converted to stars, which we will add to our lobby walls," said board member Kay Ross. "To make the process sure and certain, there is only one way to get on the conversion list, and that is to stop by the box office in person during normal operating hours, and ask to have your plaque converted to a star. A numbered list will be maintained at the box office, and names will be added on a first come, first served basis. We will not be accepting requests any other way."
Kevin Rubash of Interior Spaces selected the color and finishes for the updated seating. He will be selecting fresh paint colors for the auditorium, and Michael Willson of Willson Painting will be donating his time to repaint the room. New aisle runners will also be installed.
"We have a sample of the proposed seats on display in the theater lobby," said theater manager, Keri Holmes Rojas. "So the next time you come for a movie, be sure to take the opportunity, and experience it."
"In keeping with our commitment to do business as close to home as possible, we are sourcing this project through Iowa Direct Equipment in Cedar Falls. The seats will be manufactured in Grand Rapids, Michigan by Irwin Seating Company," continued Rojas.
The public is encouraged to watch for announcements of fund-raising activities as the project gets started. Follow the Webster Theater on Facebook at facebook.com/thewebstertheater or online at webstertheater.org.