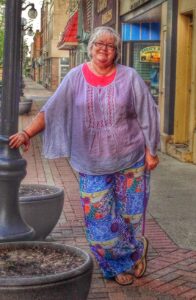 So what do you do when it rains all the time?  I want to ride my bike, but the roads are mushy and it's raining.  I get up every 45 minutes and walk around the office.  I wear my UP band, and I'm consistently hitting 4,000 steps.  But my goal is 10,000 steps.  I'll get the chance to do that this weekend – it's JunqueFest Friday, Saturday and Sunday.  I'll be walking all day, every day.  Thank God for my Vionic gym shoes.
Speaking of Vionic, they sent me a pair of sequined flip flops.  They have the same wonderful support of their other shoes.  And they look marvelous (see the picture. Most flip-flops are notoriously bad for your feet, but Vionic offers this go-to summer staple in a form that is actually good for you. Vionic's flip flops give a whole new meaning to comfort and are the ONLY flip flops endorsed by both the American Podiatric Medical Association (APMA) and renowned integrative medicine doctor, Andrew Weil, MD.
Unlike traditional flip flops which cause feet to flatten against their natural form, 
Vionic
 toe-post sandals hug the arch of your foot so that feet stay in proper alignment. With
Vionic
's podiatrist-designed, supportive Orthaheel Technology, the gravitational forces that cause the arch of the feet to collapse can be reversed, raising them back into their neutral position helping to re-align the entire leg and preventing plantar fasciitis, so wearers can move dynamically in complete comfort as intended.
Have you ever had plantar fasciitis?  It's awful!  You try to put your foot down on the floor in the morning and the most excruciating pain runs through your leg.  You wonder how the hell you're going to get to the bathroom!  Avoiding that pain is worth every penny these beautiful flip flops cost.  (and I was not paid for this endorsement, but was given a pair of these flip flops)
It's been a good week for me and new products to try.  I ordered the new products from Melaleuca (just announced at convention) including essential oils!  I love the vitamins, and now they have metabolic health products too!  I'll keep you udpated on those.