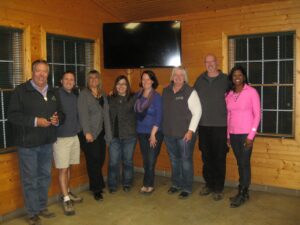 This week I was asked by the owners of Tourism Currents to contribute to their November newsletter. ( If you are not receiving the newsletter, you can do so by starting here.) I wrote about the Harvest Tour(s) in Greater Franklin County and what we found out as a result of doing them.  Enjoy the article! 
Harvest Tour Redux
Greater Franklin County Tourism teamed up with Franklin County Farm Bureau and Latham Hi-Tech Seeds to host several bloggers and their spouses and kids for a weekend in Franklin County.  We asked them to make their way to us in Iowa and we would cover the rest; food, entertainment and lodging.  We've done this for the past two years and plan to repeat it next year.
The first year we had 10 people and the second year we had 8 people attend our Harvest Tour as bloggers. Spouses were asked to attend so the blogger could have a nice weekend with their spouse.  Several brought children (we asked them to be well behaved and not babies).
What we found out:
1. Our community is thriving.  Community can be a vital force that connects us all. We're thriving, because we know how to work together.  The high school kids built the gazebo for Leahy Grove, ABCM provides a bus for organizations all over town, The Windsor is the home of the Franklin County Arts Council, Franklin County Farm Bureau found farmers to talk to bloggers and take them on combine rides, Joe Pitsor showed off the Historical Society and Joel Esslinger was available for the entire county to give tours.  Bankers, insurance companies, travel companies — businesses in Franklin County – donated to the gift bags given to our bloggers.
Dying communities don't work together.  They have factions and fissions – and don't look for ways to work it out.
Claire Celsi (blogger first year) said  "people outside of your community don't care about those kind of things.  They just see you fighting about stupid things, things that don't really mean that much."
2. We got national attention.  Because of the bloggers tour, CNN has found us and we've appeared on tv, conducted interviews, get called for opinions and are considered one of the voices for rural Iowa.  Local, State and National Press wrote about us.  Our local Farm Bureau has earned big respect from their peers and are now regarded as experts in the field of social media.  We've set the bar high for other organizations and communities to follow in our footsteps.
3. It was an affordable venture in marketing with big payouts.  For less that $1500 (with the help of local donations as well) we received blog posts, pictures, videos and long tail marketing.  People are talking, and others are listening.
We choose to have bloggers come and enjoy our community and write about it.  We wanted live action, not a billboard.  We wanted to see how others saw our community, what they would say and how that would be reviewed.  We got our story told and the world has heard it.  The long tail is the world is still hearing it.  You can't buy that friends.
To see more stories about the Harvest Tour, visit https://needalittleadvice.com/category/harvest-tour/