Marge Schroeder is the assistant manager at Red Coach Inn in Red Oak, Iowa.  I was in SW Iowa to speak at the annual meeting of Western Iowa Tourism and they put me up at the Red Coach.  I travel quite a bit and am used to the standard double bed kind of hotel room.  Desk, chair, bed, tv, shower – not a home away from home, but a hotel.  And that has always suited my purpose.  As long as there is wifi, I'm generally satisfied.
This one night at the Red Coach has spoiled me for future travels.
The room was huge, the king sized bed appeared normal sized in the room.  The chair and full sized ottoman was new and stylish.  The desk had two plugs in in the lamp and another plug on the wall next to it (geek alert, plenty of room to plug up everything).  The office chair was leather, adjustable and not just another cheap chair.  There was a closet, with a door that closed.  Hair dryer, iron, ironing board and lovely little bottles of shampoo, etc. (I always bring my own Melaleuca shampoo so I don't much pay attention to this feature).  Big windows overlooking the prairie – and they opened.  Heat and a/c that didn't sound like a train coming through the room.  I felt like I was in a bedroom anyone of us would swoon over.  So I figured they were just being nice to me – because maybe I'd blog about it.  Not so.  Each room is the same size – whether it's a king or two queen bed sized room!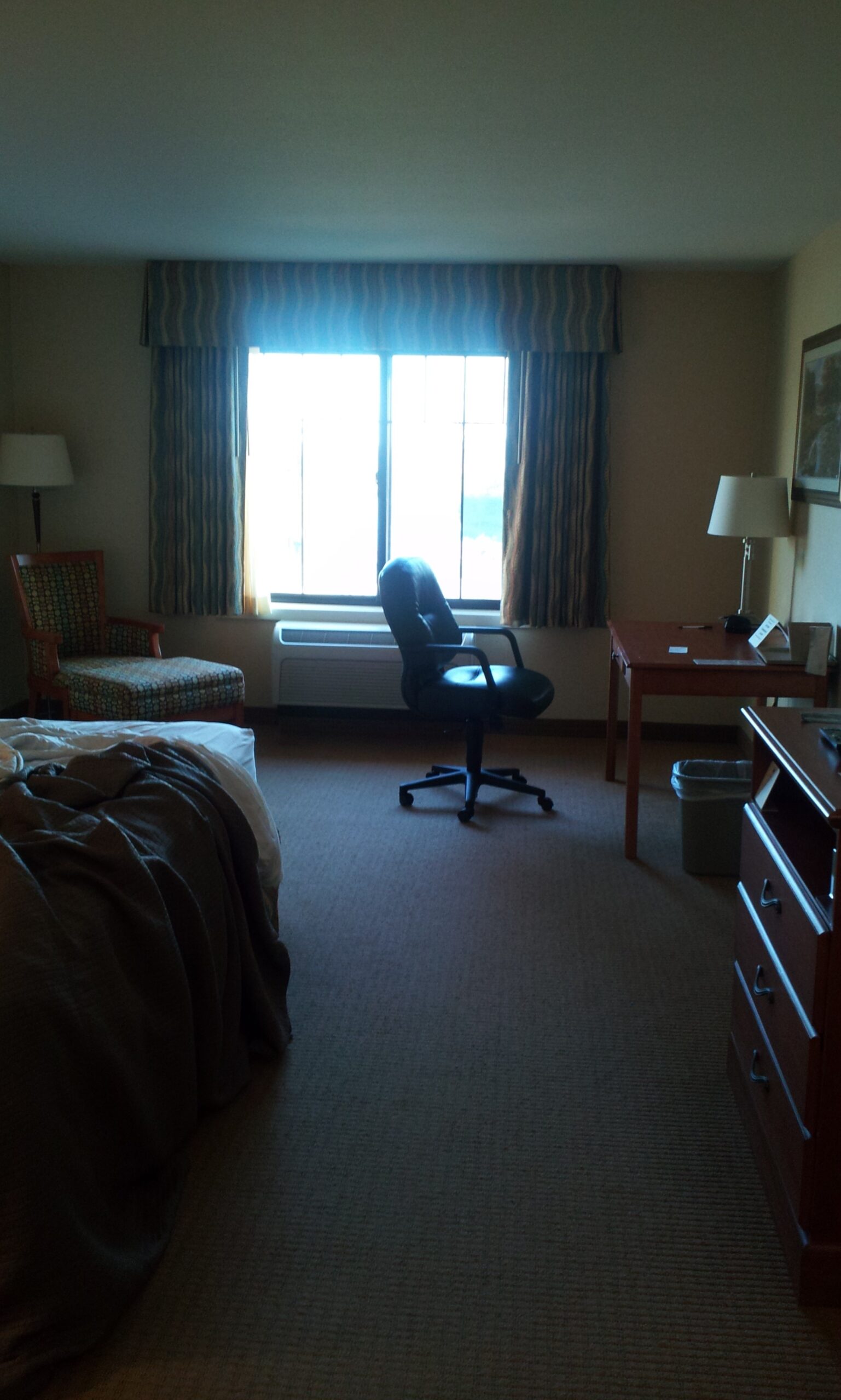 Red Coach Inn was built in June 2008.  The old hotel was a Holiday Inn and they tore it down in 2006 and started construction on the new hotel.  The restaurant and lounge is part of the old building and was completely remodeled in 2009. The old place was dated and the owners, Charles and Norma Wilson decided to just start over.  It was originally going to be part of a Best Western Chain but the Wilson's wanted it to be special, so they just decided to do it on their own.  The couple are now in their early 90's.  "Charles is very ,very pro Red Oak – he is probably one of the best supporters of Red Oak.  He just felt there was a need for business people when they come into town," said Marge.
Charles and Norma were very hands on for the whole design of the hotel.  They wanted people to feel at home and relaxed and that is why the rooms are huge, spacious and extremely comfortable.
The majority of business is business travelers.  The average traveler stays for 3 nights.  Red Oak is not a tourist attraction but they are located well and they have some industrial companies in town that have lots of visitors.  Minsa, Fresco, Parker Hanifin, Direct TV, the hospital, are some of their biggest clients.
Marge said "We do advertise in a couple of tourism brochures, work with the chamber and several other businesses in town, we do have a website and are on facebook.  We do have several package deals that include the Wilson Performing Arts Center in town.  $159 gets you two tickets to  a show, $45 to use at the restaurant and a nights stay.  We have stay and play deals with the Red Oak Country Club too." 
I think I'm going to be looking for excuses to visit SW Iowa and stay at the Red Coach Inn!