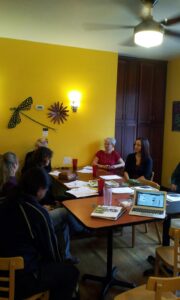 Yesterday I met with the Living Loess group of people.  It included artists, a lavender farmer, aronia berry growers, historical society leaders, a goat owner and cheese maker, a numbers cruncher, restaurant owner, web designer, and me.  This fine group of people are partnering together to bring visitors to their area to see why the Loess Hills and its people are so special.  We talked about facebook, twitter, websites, blogs and people.  They received many new ideas that help them add online marketing into their marketing plan.  It will be fun to see where they go with it!  You can visit their website at www.livingloess.com
Today I'm speaking at the annual meeting for the Western Iowa Tourism Meeting.  We'll discuss marketing both online and offline.  You can view the entire slide show by clicking here.
I recommend you plan a day trip to the Loess Hills.  It's beautiful country with many cool things to do!