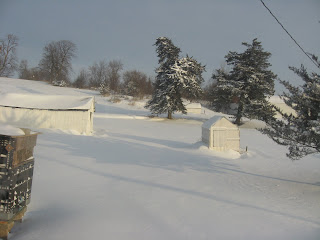 Tabetha Gedeon has a group writing project.  I like these projects.  They help hone your skills, introduce you to other bloggers/writers and get you thinking outside of the box.  Any good blog needs to think outside the box once and awhile.  
Here's how it works
.  You are assigned a topic.  You blog about the topic.  You link back to the original assignment (see link above).  You read and comment on what others have written about.  It's a nice little network!  
Today I was assigned to write about saying goodbye to winter.
What part of winter will I miss
? 
Everyone who knows me, and now you too, knows that I hate winter.  Mostly I just hate the cold and the inconvenience.  So thinking about what I'll miss is a challenge.  One I'm up for!
Top TenThings I'll Miss About Winter
1. an occasional Sunday off from church because the roads are plugged
2. the virgin view of new snow
3. deer right in front of my picture window
4. the joy it brings my great nephew who loves to shovel
5. the eagles in January flying over my farm
6. warm toasty bed days (in bed, with books, computer, and phone – all day)
7. warm heated floors from the corn burner in the basement
8. wrapping Christmas gifts and imagining receivers happiness
9. sleigh rides and hay rides
10. seeing my brother pissed off because he has to dig out my driveway (he won't show me how to use the tractor so that's what he gets)