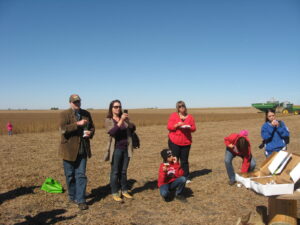 Jo Coonley brought in an article/picture from the North Central Iowa Farm Bureau Spokesman for me to see.
It had Larry Sailer, Michael Libbie, Claire Celsi and I on the front cover because we were interviewed by CNN.
I posted on Facebook that I made the paper and they called me an avid blogger, which I rather like.
Jennifer Healey from the Farm Bureau sent me the pdf to post (here it is) and we didn't know how to load a pdf onto Facebook (you can't).
So being the avid blogger that I am, I decided to share it with you!
(It was extremely cool to be on CNN, and also in the Spokesman!)
 Find the Iowa Farm Bureau online here and this is NOT a paid blog post, ad or spot. The picture above, in the red shirt is Jennifer Healey.  This picture was taken on the Roy Arends farm last fall, on our Blogger Harvest Tour.  It's how CNN found us in the first place – Claire Celsi had written a blog and CNN asked that some of those farmers join us in Des Moines for an interview.