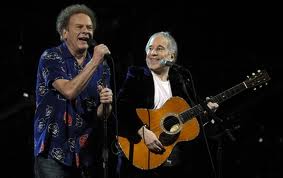 I no longer watch television.  Don't be sad for me, I have Netflix.  I consciously choose something to watch, take the time out of my day to sit down and watch it, and no longer worry about wasting my time watching television.
Today I worked on websites, tried my hand at coding a form for a friend, find someone to actually code that form, loaded a new photo gallery up on a website, made lunch, visited with my niece — and took 1.5 hours to watch The Rock and Roll Hall of Fame special on Netflix.  I thoroughly enjoyed Crosby, Stills, Nash and Young and Stevie Wonder.  But it was Simon and Garfunkel that did it for me.  They sang The Box, You Can Call Me Al, Sounds of Silence and finally Bridge Over Troubled Water.
These are some words to live by.  I practice being this kind of friend and I'm very happy to say I have a couple of friends who are my Bridge.
When you're weary, feeling small
When tears are in your eyes,
I will dry them all
I'm on your side
When times get rough
And friends just can't be found
Like a bridge over troubled water
I will lay me down
Like a bridge over troubled water
I will lay me down
When you're down and out
When you're on the street
When evening falls so hard
I will comfort you
I'll take your part
When darkness comes
And pain is all around
Like a bridge over troubled water
I will lay me down
Like a bridge over troubled water
I will lay me down
Sail on silver girl
Sail on by
Your time has come to shine
All your dreams are on their way
See how they shine
When you need a friend
I'm sailing right behind
Like a bridge over troubled water
I will ease your mind
Like a bridge over troubled water
I will ease your mind