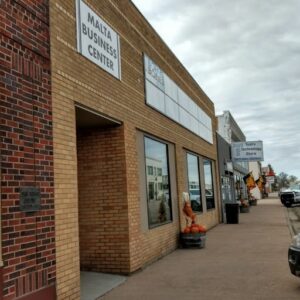 Kathy Bohn-Bagley of Bohn's Bones Arts, LLC and Art Spot located at 46 S 1st St E, Malta, MT 59538 shared a story with me about an empty building. I thought you'd like to hear it too! 
Milk River Contractors, Inc., headed by Mark Ereaux, conceived of taking an empty building in Downtown Malta, Phillips County, Montana, and creating a small office mall for local businesses to populate.  Malta is a small, rural community with 1,300 families in Phillips County which has a population of a little over 4,000 people, mostly hardworking ranchers and farmers.  Most visitors to Phillips County come to hunt, fish, rodeo, or camp.
The building known as Malta Business Center is graced with a large hallway, 11 office spaces, and a large retail space with huge front windows that overlook the Veterans Memorial Park across the street.  The Amtrak station sits just beyond the memorial park and the business center is a convenient place for people stopping over to come and have a quiet place to contemplate local artwork on display and for sale in the large main hallway.  Bohn's Bones Art Gallery opened at the same time as the Malta Business Center, in April 2014 and is a quiet place where the local community comes to see what the nine local artists have recently displayed.  Shortly after the gallery opening, Art Spot settled their nonprofit arts education program in one of the building's offices. Art Spot has a working art studio which provides space for private art lessons with students of all ages.  Kathy Bagley, who is the gallery owner and nonprofit Executive Director, also manages the Malta Business Center leasing office and provides event planning functions for the renters.  Office spaces in the building range from 190 sq ft to 1400 sq ft and they are each waiting for individual companies to change their neutral beige walls and variegated beige carpet into their own color schemes and provide decorations and signage.
In order to spur interest in the building, the owners opened up the spaces for one day or one month rental options.  Businesses who had previously been relying on the local restaurants as meeting places found the building to be a quieter option which allowed them to cater food into the spaces they were renting for their functions.  Tables and chairs for groups of 20-50 are available and custom set up is provided for each meeting function. There are two WIFI systems available for use as well as a small conference room and a break room that holds a refrigerator, table and chairs and a microwave. For those who rent monthly, utilities are included in their monthly rent which is at an unsurpassed low for rental spaces on the front street of town.  The conference room also provides the renters with free use of an all-in-one printer/fax machine and conference phone and video conference capabilities.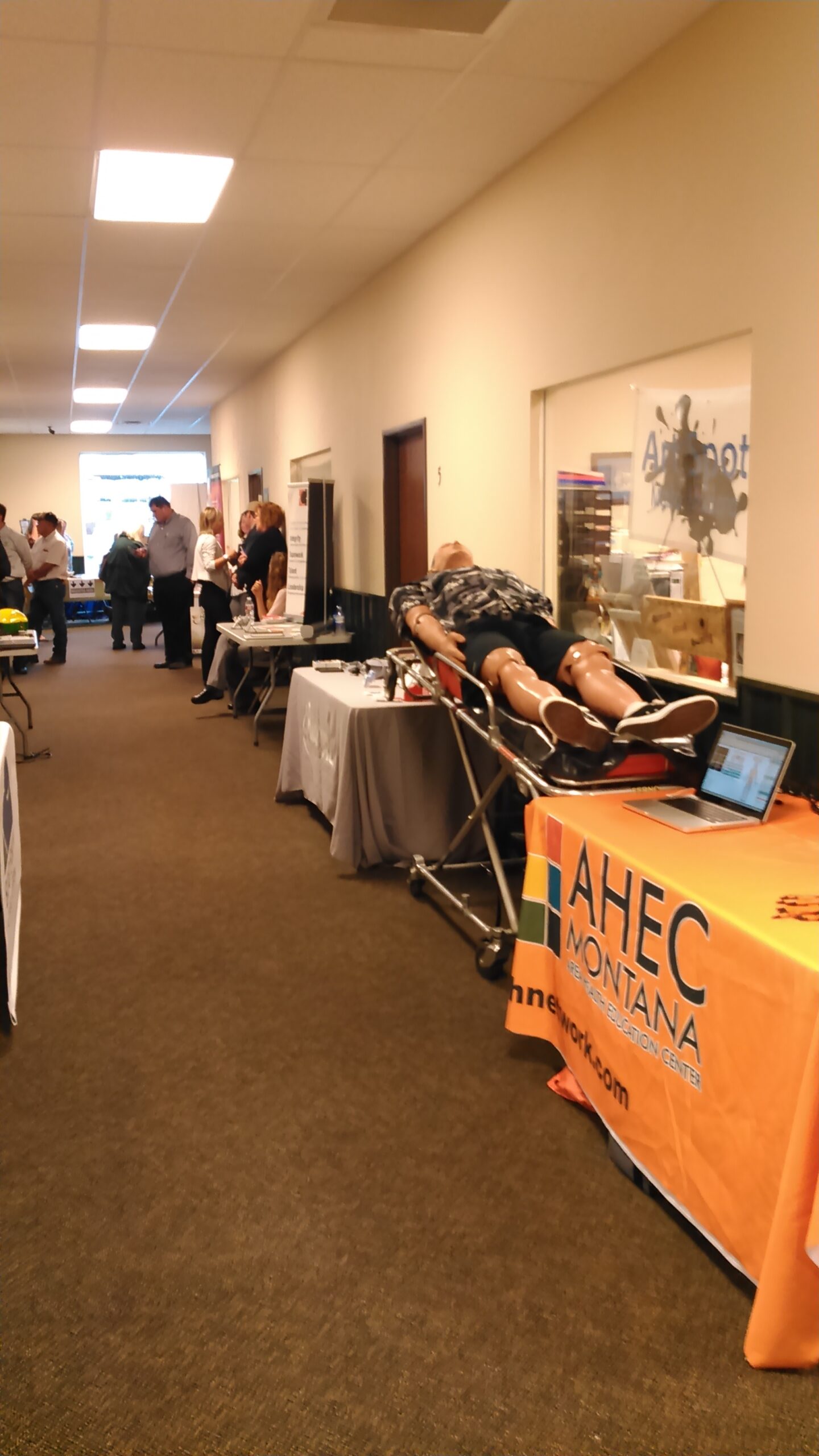 Over two years, more and more people in and from outside of the community have discovered the Malta Business Center is able to handle diverse needs.  The local Chamber used the entire building for a Technology Roundup which brought vendors from across the state of Montana to show their wares.  The vendors lined the hallway with their displays and the front reception area made traffic flow a breeze. The individual rooms were used for breakout sessions and presentations by speakers offering business advice. The local ranching conservation organization uses the building monthly for meetings.  A local businesswoman prefers to rent one of the offices for the day-to-day operations of her telecommuting position as an ecologist.  A photographer has made a home in one of the other offices and works on weekends providing family and baby photography.  The retail space in the front of the building is even used for church services on Sunday mornings.  Flexibility and accommodation are the hallmark of the space and Malta is proud of this new business home.
Now that's a great story!