Buy One Product Local
Greater Franklin County Chamber of Commerce created the Buy One Product Local Campaign. The strategy was to use toilet paper as the product focus for this campaign. Toilet paper was chosen because it is a product that is universally consumed. Toilet paper is also a product that is readily available from a variety of retailers.
The numbers were generated out of research gained from Kimberly Clark and local store numbers.
14,987—number of people in Greater Franklin County

105—average number of rolls used per person each year

1,573,635—estimated total number of rolls used in a year

$1,967,043.75—total dollars spent on toilet paper

$335,800—total actually spent on toilet paper

$1,631,244—lost annual sales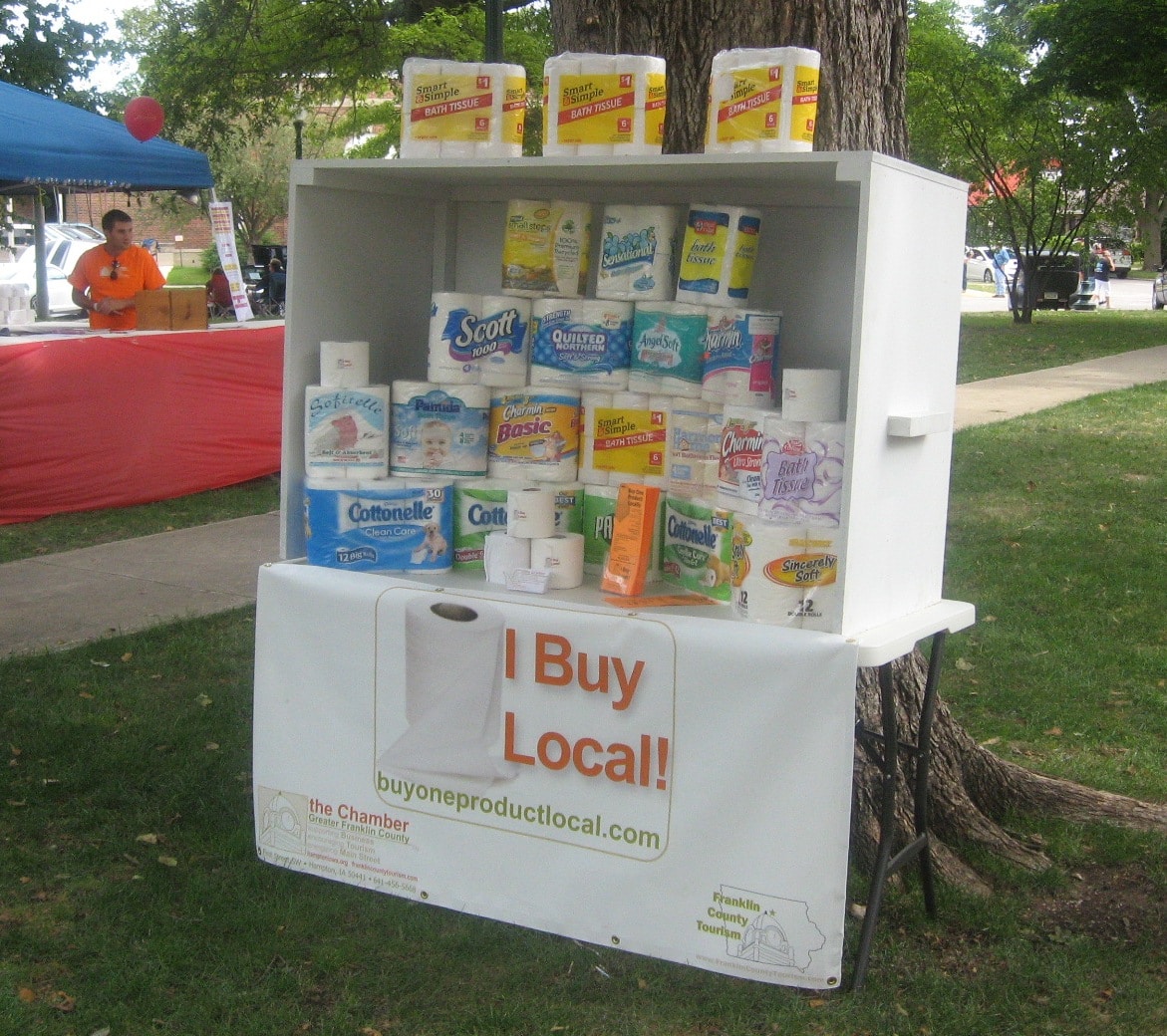 A meeting of the 25 local retailers who sell toilet paper was called. The Chamber emphasized that the Chamber alone could not make this campaign a success. Everyone had to participate and share for it to work. We asked the retail partners to do in-store promotions, talk about it on their Facebook pages, place ads that included toilet paper. The 11 downtown Hampton Specialty Shops created vignettes featuring toilet paper and buying locally as well.
The Buy One Product Local Campaign was announced at the Annual Dinner with full fanfare. Jim Thompson was the keynote speaker and talked about buying locally and supporting your downtown districts. Jim suggested we put the emphasis on making the decision to Buy Local. We don't want to debate the numbers, we want people to just stop a minute and think about buying local. It is really about creating awareness in our local community to buy local. Access to Jim is a great benefit that the Main Street Iowa organization provides.
Over the
winter, retail stores set up displays, the local radio station KLMJ promoted the Buy Local Campaign, we created bag stuffers and flyers for local stores to use, a traveling banner was created and a new logo was made for this campaign. It was working, people were talking!
Even more exciting was the reaction of local businesses in the community. One local car dealer, BSA Auto, was giving away a years supply of toilet paper with every car purchase. Pam Warwick, a writer from Coulter wrote about it in her weekly article in the paper. The specialty shops were setting up displays of 105 rolls of toilet paper and encouraging people to buy local. KIMT tv station in Mason City came and did a lead off feature about us on the news at 10 pm. Musicians who came to perform at our downtown Tuesday on the Town took pictures with toilet paper and asked the crowds to buy local.
In June we worked again with the 25 local stores and set up a promotion for June 25 to July 8. They set up displays of 105 rolls, posted signage explaining the display and gave bag stuffers out. The Chamber promoted the website on Facebook, twitter and in our enewsletter. The local stores worked with the local paper and radio station and did a big promotion. A Facebook contest to vote on your favorite Fair Float was conducted, Fair Parade float participants threw out rolls of toilet paper and buying locally was highlighted on Tourism Day at the Franklin County Fair. A year's supply of toilet paper was given out to 5 families. Deb Brown spoke about it at the State of Now Conference in Kansas. The High Plains Journal picked up the story.
The committee decided that a Buy Local Discount Card would be a great thing to offer. They promoted it to local stores and 37 businesses will be on the card. Cards are being sent out to Chamber members and employees – over 2,000 of them.
Why did this campaign work? Because toilet paper is something everyone can relate to. We turned the toilet paper figures into discussion items like providing jobs for family and friends, keeping local stores' doors open and providing tax dollars for local projects. Asking our community to buy local when purchasing something as basic as toilet paper helped to create awareness of the benefits of buying local not just for toilet paper, but other items as well.