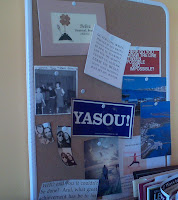 My friend sent me a card with this quote from Carol Shields on it:
Go for long walks
indulge in hot baths
question your assumptions
be kind to yourself
live for the moment
loosen up
scream
curse the world
count your blessings
just let go
let be.
I have it on my dream board
.   I also have postcards from Antiparos Greece, a pic of me on the beach in Florida, old friends in the photbooth pics, a great pic of my and two friends dancing when we were 7 or 8 years old.  There's a quote "where do you draw the line between possible and impossible".  My name with a flower.  A breakdown of who my perfect client is.  
So what's the purpose of a dream board
?  You put up things that you want, things that motivate you.  It's located in a place you can look at it often.  I work so I can have a home on the Greek Islands.  I am living on the beach (I do see myself there).  I do accomplish the impossible.  No one will tell me it can't be done! 
Bottom lower left corner of dream board says:
WHO told you it couldn't be done?  And, what great achievement has he to his credit that entitles him to use the "impossible" so freely
?
What's on your dream board?