I spent the day at the fair. I walked around and took pictures. I volunteered for 3 hours at the Democratic booth (you don't live for 30 years in Chicago and leave as anything other than a Democrat). I had a light repast (hamburger, Doritos and a Pepsi – plus real homemade ice cream using Watkins Vanilla flavoring).
It was perfect weather – light sun, great breeze and about 78 degrees.
You can find all the pictures I've been taking at http://debworks.dotphoto.com/ Here are just a few really great shots.
This couple rode the golf cart with me to the parking lot.
I asked them could I take their picture – this was the response I got.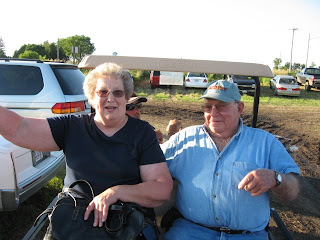 Three old guys, a tractor and a bear. Now that's a county fair.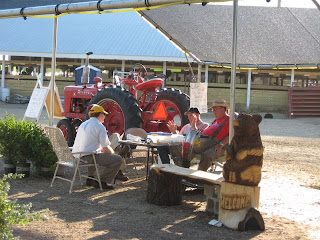 Ben goes to my church and he showed me the rabbits he had at the fair for 4-H. Between him and his sister Meghan, they had about 15 of them. I asked him what happens to the rabbits after the fair. He slowly answered
"Deb, some of them go home and some of them go into the frying pan."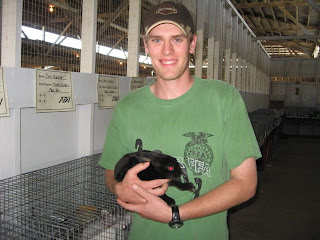 I once had a boyfriend who told me he loved the way the shadows danced across my face. I thought he was full of it. Until I took this picture. The shadows on this little girls face just add to her angelic beauty.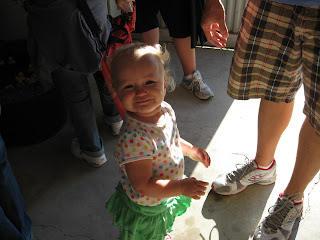 This is my niece and her boyfriend and my 4 year old great nephew. Who really just wants to go on a ride. That's all. Just a ride.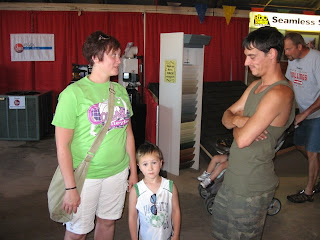 Best t-shirt of the fair. Hands down.