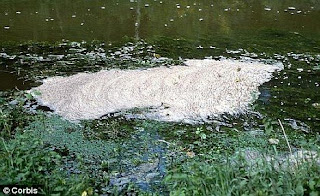 I just read an article online at the Globe Gazette. It said
cleaning products dumped into a creek in Cedar Rapids are killing the fish
. It was the employees from the nearby Harding Middle School dumping the cleaning products into the creek. (
here's the article
)
Come on people — why do we continue to use these hazardous products? If they are killing the fish, what is the everyday exposure to your children doing?
There IS a better way. Go to
http://www.debthinksgreen.com/
, take the toxic home tour – and shoot me an email or give me a call at 515-834-0155. Let's talk.
What about safer for your family, less expensive that store brands and delivered to your door is so hard to understand?
The picture is taken from the
Daily Mail online in the UK
. They have found in Great Britain that household cleaning supplies in the water are triggering the growth of drug resistant bugs. Have you taken the toxic home tour yet?