I interviewed Dr. Simon Estes two days ago.  He's a world famous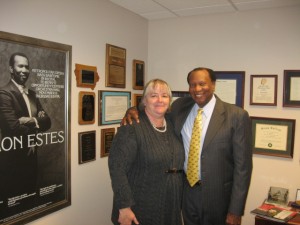 opera singer.  A kind, humble man imbued with joy that it bubbles out as excitement and a glow that cannot be contained.
I sat on the edge of my seat and listened intently to the stories he told, the ideas he had and the thoughts about what he could do to make a difference in our state.
Here's this famous world traveling opera singer, our native son, discussing economic development with me. He's got an idea to put college students with a degree in performing arts to work right here in the state.  It's a sound idea and I have no doubt it will happen.
Any good conversation can get me to thinking. This conversation went past good and into the realms of great.   First of all Dr. Estes got away from the subject he is most familiar with (music) and talked about something I am interested in.  He asked a few questions and found a common theme.  Second, he planted ideas about his project into my mind – and then got me to thinking about things I could do to make a difference and create a little economic development myself.
I went home and thought about who might be able to join my Debworks team. Whoa!  I have a team?  Apparently.
See, I got this idea that I could create more work by creating a team.  Then I went online, found a young man who has just moved back to the community and needs a little work.  I started talking with him and realized he's a geek like me.  We travel in different geek neighborhoods – but you know, geek is geek.  I set up an appointment to meet with him today.  We spent an hour just talking about what we like to do and what we'd like to grow.  See, I've got this idea that I want to work with people who are doing what they like to do.
We'll do some things together.  I'll refer people to him.  He'll start his own business and be successful.
Then I got another idea. I have a business where I show you how to get green, non-toxic products into your home.  I work it part time.  And  I haven't been doing my job.  I've allowed distractions to creep up and take over.  What if I started doing that job too?  I'm building a team there as well, and I've been really unfair to people who are looking to earn a living.
So there's some openings on my teams.  Are you willing to have a conversation?
So let's review — a conversation with an operatic superstar motivates me to create openings for economic development.  Now that's what I call a conversation!