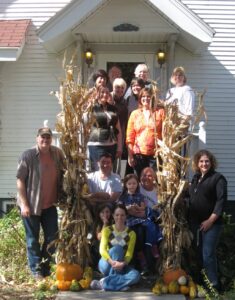 The Harvest Tour is over. Veni Vedi Vici.  They came, they saw, they conquered.
I will be posting about
Maynes Grove and Star Gazing
Combine Rides
1917 Movies
Eating with bloggers
Fall Festival
There will be pictures, connections, stories, comments and words that will give you the visual feelings we had.
Today – I  want to talk about community.  Because it kept coming up.  Community can be a vital force that connects us all.
We're thriving, because we know how to work together.  The high school kids built the gazebo for Leahy Grove,  ABCM provides a bus for organizations all over town, The Windsor is the home of the Franklin County Arts Council, Franklin County Farm Bureau found farmers to talk to bloggers and take them on combine rides, Joe Pistor showed off the Historical Society and Joel Esslinger was available for the entire county to give tours.  Bankers, insurance companies, travel companies — businesses in Franklin County – donated to the gift bags given to our bloggers.
Dying communities don't work together.  They have factions and fissions – and don't look for ways to work it out.  Claire Celsi said  "people outside of your community don't care about those kind of things.  They just see you fighting about stupid things, things that don't really mean that much."
The Harvest Tour bloggers all talked about the way our county has found to work together.   That was the overriding thought out of this weekend – how our county has become a community.  We find ways to have discussions, share differences and find paths to work through them.  Sometimes we agree to disagree.  Sometimes we collaborate, and concede and continue forward.  But always, we try to work through it all.