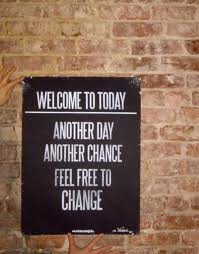 It's no big secret – change is good.
Now a lot of people don't like change.  I think they're just looking at it the wrong way.
Change has many definitions.  Here's just a few:
to pass gradually into (spring into summer)
to pass from one phase into another
anything that is or can be substituted by another
See – when people think of change they think of big changes.  Stop, turn 90 degrees, and go.  They don't think of change as a series of small steps.  Even small steps you can plan out.  So at the end of a chosen journey, you've passed gradually from one place into another.
Change doesn't have to be hard.  Or quick.  Or drastic.  All of us change as we age.  Why not make a plan, make small changes along the way and hope that God is not laughing too hard at your plans?
(image from http://www.searchquotes.com/picture_quotes/Change/)