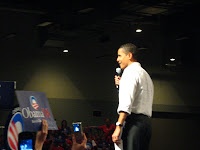 Tuesday, January 20, 2009  President Barack Obama Inaugurated
I first met Barack Obama at the Harkin Steak Fry two years ago in Indianola Iowa.  It was held at a large field where the balloon races start. There were about 10,000 people in attendance.  The steak was free (and unremarkable, sad for Iowa).  All of the Democratic candidates were there.
The stage where the speakers would be was located at the bottom of a slight hill.  There were chairs around it, and people were marking their spots on the ground with blankets.  At the top of the hill was a large open sided tent with tables under it – the long tables you see at church events or in the bingo hall.
The candidates were found in the field, surrounded by security and lots of people asking questions.  
Except for Barack Obama
.  He was under the tent, making his way between the tables and talking to people.  He had his front person, Jackie Norris with him.  He was making his way towards where I was sitting.  There were about 12 people at my table.  
Jackie Norris passed me first – and I gave her my business card and asked her to call me.  Then Barack came.  He had on a polo shirt and slacks.  Mr. Obama stopped in front of me and grabbed my hand with both of his and shook it.
 He looked directly into my eyes.
 He was not looking ahead or behind.  He smiled that famous smile and thanked me for coming.  He waited a couple of seconds to make sure I had nothing else to say.  Then he went to the next person.
I got the feeling Barack Obama wanted to hear what I said.
 He paid attention to ME
.  That's when I knew this man could one day be president.  
You can watch the speeches from that day
here.
 The picture above is one I took when he came to Allison, Iowa for a town hall meeting.  I got a hug from him at that event, and he remembered me from a couple of other events I'd been at.  
Millions of people, and he remembers me.