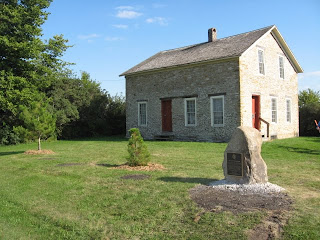 This past week my computer was in the hospital. She's feeling better now. I'm finally recovering too. It's hard to be without my lifeline!
This week I did a presentation for the Historical Society's annual meeting. It was pretty cool – we showed a video of a man acting as Leander Reeve, the man who built the house in 1854. Then we did a powerpoint presentation with only pictures – and told the stories behind the pictures. We painted the past, shared the present and created the vision for the future.
Today I recreated that presentation in a speech at the DAR dedication of the rock and plaque at the Old Stone House. I conducted tours all day, speechified a little and had a great day. I took part in the original social media today — good old face to face conversations.
Throughout the course of restoring the Old Stone House, I've utilized social media tools. Posting on facebook and twitter, blogging, sending out press releases, conducting and giving interviews. In essence, we've created a buzz.
I learned today — social media is simply talking face to face on a grand scale.
I'm an evangelist for the Old Stone House. I believe in the project. I have no problem sharing the information, asking for help and getting the work done.
What if you felt that way about your own business?