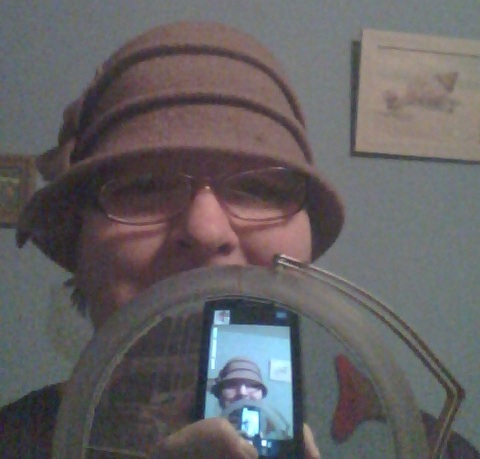 I received a Droid Bionic to review.*
Quick and dirty review: Loved it.  Figured out the whole touching business (you have to touch it to make it work).  Best feature: speaking into the phone instead of having to type or swipe everything.  Worst feature: battery life.
I'm not going to give you all the technical information in this review.  You can Google it (on a Droid, just by speaking).  I will give you what worked and didn't work for me.
What it offered for me:
easy to download apps – Facebook, Twitter, Google maps, YouTube, News, Netflix, Navigation were the ones I used frequently.
touch screen that worked with my big fingers – the screen itself is larger, so it made it easier to touch.  The important thing I had to remember was to use the pad of my finger, not my nail.
little icons for the people I called the most – I could see their face and just touch it.  Made it so much easier to make a call, less steps.
Voicemail icon – Showed me how many voicemails I had, and it was a one touch operation to check them.
Good camera – front and back facing, touch features that were fun and easy to use.
larger screen – this really helped in reading blogs, Facebook and online information.
Google search by voice – I simply clicked the microphone and said what I was looking for.  "coffee shop in Surf City" "Kohls in Winston-Salem" — and it brought up the info I needed.
Lovely sound – I used Ta Da for notifications and every time I heard it, it made me smile!  My phone ringing sound was Eastern Sky and it was very mellow.  Both sounds were loud enough for this hard of hearing woman.
Always connected – I never had a problem accessing the internet.
Extra Feature that made a big difference:
Verizon has local, independent stores that are staffed by some of the most amazing people.  Cell Tech in Hampton called me to see how I liked the phone and invited me down to show me some features I was going to love.  Katy Flint spent an hour going over all the features and downloads with me.  When I complained about the battery life, Kimberly showed me the extra battery option they carry – it has three charges on it, fits in your purse easily and solves the carrying around a cord dilemma.
I visited two places in Winston-Salem with my friend who was trying to straighten out her bill.  While she was working  on that, staff showed me some very cool things I could do with the phone.  Using the camera options to create stunning photos, holding the search button down and it would pop up the speaker for the talk to Google feature – just two things I learned on the road.
Neutral features:
4G – I was in North Carolina and they have 4G there (we don't in Iowa yet).  Frankly, I didn't notice a difference.
What I didn't like:
battery life – you would definitely have to carry a cord around with you to recharge.  I use my phone frequently, and I would need to recharge by 2 p.m. (after starting at 7 a.m.).  (see fix for this above)
weight – it was heavier than my Blackberry.
Off and on – it went black too quick for me.  Granted, it was just a little button on the top I had to push to bring it to life and then swipe to open the lock.  I'm used to my BB that stays on.  My guess is there is a setting somewhere that I could change to make it stay on longer.  But then again, that probably drains the battery too.
Cost – to get it and upgrade my plan would cost me over $200, depending on whether I get the 3G or 4G model.
Will I switch from my Blackberry Curve to the Android Bionic?  
Probably.  It's on my Christmas list!
I received an email from Karen Smith, Verizon — and it addresses a lot of my issues!  The Bionic is looking better and better.  Here's her response:
I have the Bionic and bought the extended battery which comes with a cover – This is a great help for those who run a lot of applications and are not able to use a vehicle power charger, one of the docking stations or have plugged in. I The new Motorola DROID RAZR has a special APP – Smart Actions APP that helps you customize your phone to save battery life
 In the 3G or 4G smartphone world, staying charged is a constant compared to the battery life of those who have had a Blackberry for awhile. That is because the device is constantly connected and updating.  We recommend downloading Advanced Task Killer free APP for Android to help conserve battery life.
Thinking you might be a candidate to attend one of our Wireless Workshops – however not sure which of our corporate locations would be close enough for you?  Waterloo, Mason City or Ames stores all have wireless workshops free when you have gotten a new device to learn how to use it.  Usually 8-9 a.m. before the store opens, some are on Saturday mornings. Information and registration is available online at  www.verizonwireless.com/workshops. 
*I was not paid for the review, I don't get to keep the phone either.