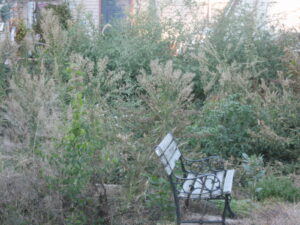 The birds outside my window make the leaves of the trees wiggle in the sunshine.  I see flashes of yellow finches and happy go lucky barn swallows flit and fly here and there.  There's a beautiful old bench, with plenty of room to sit.  See the white flowers, and the red tree?  I can't see the neighbors behind me – the garden is in the way.
Granted, this is not your regular garden.  This is what an untended garden looks like.  I stare out at it each morning while having my breakfast and wonder "where's the garden keeper?", knowing that keeper is me.  Early in the season of the garden, there were tulips and outhouse flowers and hens and chicks … and the weeds were small.
It takes time to keep a garden weeded.  I meant to get to it.  I never did.  Now it's fall, the flowers are done blooming and what remains are these tall, glorious weeds.  The birds love them and they entertain me every morning.  I'll hire my friend's 12 year old son to pull the weeds this month – and once again, it will be a proper garden.  Meanwhile, I've enjoyed the wild garden all summer.  
I decided in July that my priorities were not in order.  Worrying about my garden was a wasted moment of time, because I knew I wasn't going to go weed it.  I had built my list of priorities – and the garden was not at the top.  In fact, I was curious to see how big and unruly it could actually get!
I know that I give at least 100% to living my life in a way that will be an example to my great nieces and nephews.  I know that I'm living out my dreams, and that takes time, effort and love.  I'm enjoying my work, meeting people who matter, and building a life I want to live.  Sometimes that means I'll enjoy the weeds in my view!  
"Therefore I tell you, do not be anxious about your life, what you will eat or what you will drink, nor about your body, what you will put on. Is not life more than food, and the body more than clothing? Look at the birds of the air: they neither sow nor reap nor gather into barns, and yet your heavenly Father feeds them. Are you not of more value than they? And which of you by being anxious can add a single hour to his span of life?"