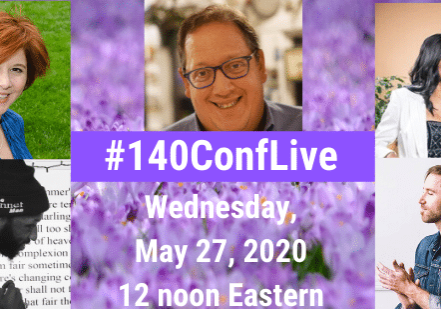 The 140 Character Conferences were events hosted in New York, LA, Des Moines and Hutchinson, KS. Speakers talked for 10 minutes only. Each event had a theme. They were all live events, and I was able to speak at several, host some and help in New York City with hosting.
Jeff Pulver explores communication, and has since he founded Von (remember VOIP? Thank Jeff for that and for keeping the government from stopping it.)  He reached out and said it was time. Let's do this again. Virtually.
May 27, 2020 there will be the #140ConfLive online at 12 noon Eastern. Because I believe in small steps to get things done, we decided to do just an hour. There is no charge, but you do need to register here. Space is limited.
There are 5 speakers. They were chosen to talk (or sing) about what is going on in their life, as we move into the new way of doing things.
Jeff has also been named as "a leading thought-leader on the Real-Time Web", and says "I'm a habitual entrepreneur who likes to start Internet communications companies." 
Pulver organizes a conference series called 140 Characters Conference (140conf) that is held in various locations around the world. He has also hosted Camp Jeff that brings people to the Caicos islands to "see the night sky, learn about astronomy and talk about the future." Today you'll find Jeff somewhere in the world talking about the new world of communications. 
Debra Eckerling is the founder of the D*E*B METHOD® and author of Your Goal Guide: A Roadmap for Setting, Planning and Achieving Your Goals. A goal coach, project catalyst, and communications specialist, Deb works with businesses and individuals to set goals and manage their projects. She is also the founder of Write On Online, as well as host of #GoalChat – Sunday nights on Twitter, #GoalChatLive – Mondays at 4pm PT on the Mango Publishing Facebook page, and #ChangeHappens: the podcast.
Liz is an adventure speaker, most recently climbing Mt. Kilimanjaro, exploring her roots in India and flipping 300 pound tires in the Iowa Strongman Games. She is a regular contributor to the Huffington Post and has authored several best selling books—The 1440 Principle, Curry Up, Life Dare.  Her work has been ranked in BuzzFeed and reviewed by the Huffington Post. She is a skilled story-teller and teacher, creating powerful personal development and team building strategies. Liz raised seven kids in Johnston, Iowa with her husband, a retired army-major. 
Devon Glover is a teacher, rapper, poet, playwright and actor from Brooklyn, New York. Devon introduces audiences to Shakespeare by performing his Sonnets through Hip-Hop as The Sonnet Man in schools and theaters worldwide. In addition, Devon collaborates annually as an educator, composer and actor for Shakespeare Birthplace Trust, and Shakespeare in Yosemite.  Devon has appeared on NBC, MSNBC, BBC, and Conferences and Shakespeare Festivals worldwide, including Stratford, Ontario, and Stratford-upon-Avon. For more information, visit www.SonnetMan.com
Peter Katz has evolved from a nervous first-timer at an open mic night into a JUNO Award, Canadian Screen Award, and two-time Canadian Folk Music Award nominated singer-songwriter with five albums under his belt. He has toured the world for the past decade in support of his music, sharing the stage and studio with legendary musicians like Academy Award winner and Grammy nominee Glen Hansard, and Garth Hudson (from The Band). A gifted storyteller, Peter infuses his presentations with songs which inspire audiences to create their own path, overcome obstacles, and find success in whatever they desire.
See you virtually!