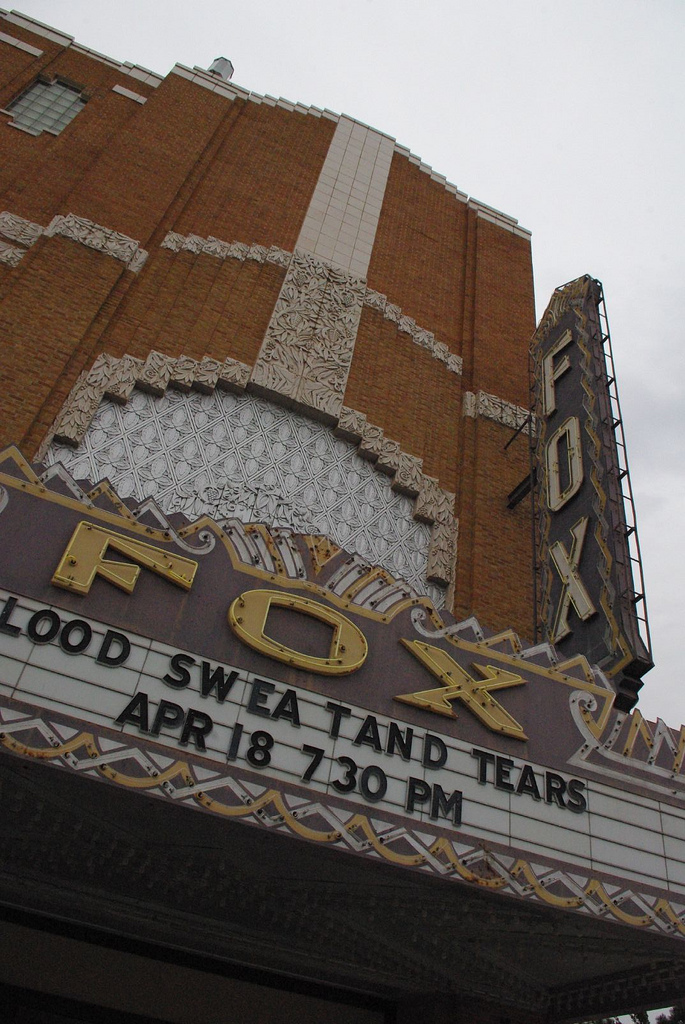 140 Character Conference
Just what is the 140 Character Conference?  Why would I want to go?  How does the day roll out?  How can I be a speaker?  These are all questions I've received in the past couple of weeks.  Let's answer them!
What is the 140 Character Conference?
The 140 Characters Conference at the Fox Theatre in Hutchinson, Kansas is being co hosted by Jeff Pulver and Becky McCray.  Join them November 1 for the first Small Town 140 Character Conference.   The key focus of the conference is on how real time technology (twitter, facebook are two examples) is changing business, agriculture, media, education, sports, celebrity – everything.
There will be speakers from all over the world – and local speakers too.  Speakers present in 10 to 20 minute segments.  The day moves quickly and lots of voices are heard.   The event runs all day and costs $100 for early bird registration.  For those who cannot attend in person, this conference will be live streamed on the internet.
Why should I go?
Originally, the 140 Characters Conference was designed to bring together about 140 characters to have a discussion about twitter and discussing topics like Celebrity, "Media" and Advertising.   It's been given in large cities like New York, London and Tel Aviv.  However, there's 281 million people living in communities with a size of less than 50,000 people according to er.usda.gov .   That's a lot of people that think just a little differently than those in big cities.
Now is your opportunity to be fairly represented on a large stage.  The speakers will talk about topics relative to small town lives.  Agriculture will be more than just one speaker representing all sides of the topic.  Hear from the agricultural producers, small business and the large corporate businesses.  Imagine that! Business speakers will cover how we build relationships in a town where everyone really does know your name.  There will be small business, large business and home business people showing us all the power of small town living as related to owning and/or working in a business.
Why should big city people come?
Large cities are really just a bunch of small towns connected.  There are similarities between being in a smaller city and a smaller town, being in a neighborhood and a small town.  This small town 140 conference will show you how important it is to be part of a community. The new buzz word is relationship, and we know how to do that better than anyone you know.
They are going to learn things that small town people know and have never forgotten.  Everyone needs to know how to survive with these technologies.   These new technologies force us back into a small town interaction – we know everything about everybody.  Small town residents know how to be friendly – it's part of our local culture – it's inbred into us.   Large companies now hire people to come in and teach their employees how to be friendly.  If the world is getting smaller, and we all know it is, this is where you want to be to be part of this discussion.
How can new technology help rural folks find their places in the world economy?
We tell the story of the wheat farmer who used twitter on his Blackberry out in the field.  That's nice, right?  Here's the real story.  The bigger city news was talking about how there was not very much storm damage to the crops after the last big storm.  This farmer was out in his field looking and he didn't have much damage.  However, his friends on twitter were posting pictures of the damage in their area – and it was bigger and worse than his.  He was scheduled to sell his wheat that week.  He made the decision to wait a week.  Why?  Because the prices skyrocketed – there was so much damaged wheat and supply was low, demand high!  His crop brought in a better price – because his friends posted pics on line.  Yeah, the farmer today is no idiot.  There will be lots of stories about how technology is changing the way we do things.
What does the day look like at a 140 Character Conference?
I've never been to one!  This is my first as well.  I have talked to Becky and here's how things are tentatively planned to go.  As with any conference, there's got to be some flexibility.  At a  conference on the Now of Technology it stands to reason that things may change right in the now of it all.  And every good planner has a great outline – and here's how it's looking as of today.
We start at 8:30 a.m.  That's late for rural folks – and very early for the geeks!  We will assemble in the theatre style 1920 Historic Fox Theatre.  The Fox has wifi, and there will be a truck outside also providing radio frequency wifi broadcasting.  Remember, this is an old building and you will want your phone and laptop already fully charged.   There are a limited number of plug-ins for recharging.
Jeff and Becky will welcome and convene the event.  Becky McCray will speak on why it was important to bring the 140 Character Conference to a small town.  And Jeff Pulver will say why it was just as important to say yes to Becky.
Then the fun begins.  The speakers will begin. Each individual has 10 or 15 minutes and panels have 15 to 20 minutes.  The idea for presenting in such a short time frame is to eliminate the lecturers, get to the point and share their information in a tweetable format.  Get to the point (which is the point).
Topic lists will include agriculture, media, small business, tourism, government and community involvement.  Media will include small town papers who are actually involving the community into their news reporting.  New media has made the old way of reporting the news obsolete.  How are small communities overcoming these obstacles?  Government will have speakers from the local USDA office, city hall and state offices.  Tourism people are at the forefront of using this new technology to promote their small local areas.  Every one of us can learn from them.  Community involvement speakers come full circle and talk about using the tools to build relationships and create big things in small towns.
There will be a break for lunch and networking – it is catered in.  You will want to come and go and collect in the lobby, stand outside, have conversations with others.  It's often been said that the real value at a conference is found in the hallways.  Consider the idea of cross pollination.  Imagine the local seed company in Iowa conversing with the banker in Kansas and the Rhode Island organic farmer.  What are the possibilities for expanding your knowledge base and connections in the real world?
The Conference ends around 6 and a wrap will happen at the Cosmosphere.
Who really comes to these events?
Most people who are using the technology of now are interested in the world.  Twitter is an interesting tool – it allows us to be in direct communication with people all over the world.  These are the people who are coming – smart, vibrant, thirsty for knowledge people.
The multifaceted nature of the small town prolific tweeter will be represented.  Small towns don't have a person for each organization and business to tweet out information.  It's the several prolific tweeters  that do that.  We write about tourism events, chamber ideas, what the alumni association is doing, church activities, where the sales are – we tweet it all.  We share it with the outside world as well.  Want a microcosm of a small town?  Find the local prolific tweeter.  And they will be at this conference.
Once again, give me a few short reasons why I should come.
Oh- like in a 140 character way?  Here goes:
140 Character Conference speakers talk about how they are being changed by the technology of now & show you how to use it where you live.
Small towns are being represented in a big way.  Tourism, agriculture, media, government, community involvement. Be informed.
Audience participation, live streaming, informed and passionate speakers and technology of now.  Why wouldn't you come?
You can speak too.  Visit www.140conf.com , fill out the  form.  View past events and get a feel for topics. Deadline is  September 3.
Speaker reception at Salt Mines. Wrap up at the Cosmosphere. Stay at the Grand Prairie.  This is the place to be for the state of Now.
Want to make connections with real people and get your business name out there?  Be a sponsor. jeff@140conf.com for more info.
picture is from flickr stream of Becky McCray