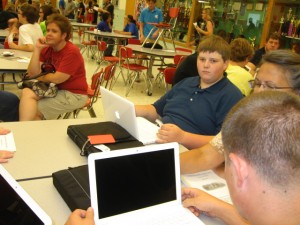 Last night the Hampton Dumont High School handed out Mac laptops to their students.  Free. Parents came along and spent 2 hours learning new things like safety and care of the computer, what local businesses provide for their children in terms of computer needs and things the kids can and cannot do on the computer.  The attendees were divided into four groups.  Each group attended all four sessions and at the end of the evening the laptops were handed out.
The 1:1 initiative is a successful 1 to 1 learning program (that) matches how our 21st century students interact and learn. The world is becoming a more diverse, dynamic place with technology blurring the borders and bringing it closer than ever before. The new skill set includes collaborative and creative skills that are unique to this generation, we need to prepare them. .. Trent Grundmeyer, 2009 High School Principal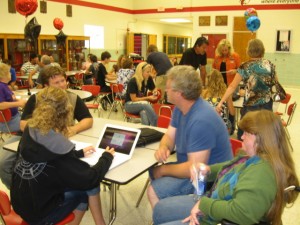 1:1 Goals are:
1.  Increase engagement in the classroom as routinely measured by the Instructional Practices Inventory.
2.  Foster 21st Century Skills in our students.
3.  Give all students access to a rich technological environment.
4.  Promote college and career readiness.
Laptops, when used correctly can stimulate a different type of learning.  No more would we be sitting in class with paper and an overhead.  Paper notebooks will be old school and online and internal collaboration between students and teachers will be at an all time high. ..Tyler S. Miller
Todd Lettow, Hampton Dumont Superintendent said "These computers level the playing field.  No longer is the expense of a laptop a problem for students.  Everyone deserves the best education we can give them."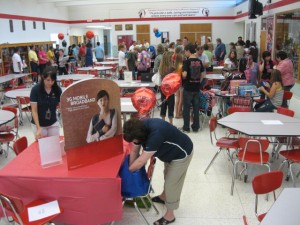 Steve Madson, Hampton Dumont Principal, invited local businesses who offer computer related products and services to set up in the Commons.   One of the sessions was devoted to visiting the businesses present and receiving information and education.  Too often small town businesses are neglected for the big box stores.  Dollars are spent outside of the county and the downward spiral begins.  We extend a heartfelt thank you to Mr. Madson for remembering we all live here and need to support each other.
Apple says "Students become pilots of their learning, not just passengers along for the ride."