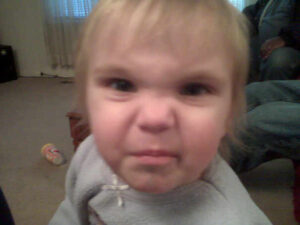 Jeff from Constant Contact gave a presentation last week.  I was pretty sure I knew all about email marketing, I've been doing it quite awhile now.
Goes to show you that you
can teach an old dog new tricks!  
Take notes friends, here's a few things you may not know.
1. SENDER
Is your newsletter from info@xyzcompany.com?  Yeah, that's exciting – makes me want to open it right away (sarcasm).  Make sure your email is from a real person!  And make sure that when someone clicks on that email button it goes to someone too, not suggestions@ or help@ or newsletter@.  Then make sure the person who gets that email ANSWERS IT.  If someone has read your newsletter and then took the step to send an email, they deserve a quick response.
2. SUBJECT LINE
Subject line: don't use a generic one.  We've always done 'Email Newsletter from the Chamber'.  Again, makes me want to open it right away (sarcasm).  The first two seconds a person sees your subject line is all you're going to get.  If you can't get their attention then, you won't.  The first two words are critical!  Be sure to give your reader the way this email will impact them today and not give them a reason to delete it or 'save it for later' (later never comes).  For example, you took pictures at an event and want to share them. You could put your subject line as 'Last Nights Event'.  Or you could say 'Exclusive Look at Last Nights Events'.
3. TOOL FOR RESPONSE
How often are you checking your facebook feed and twitter stream?  Either too much, or not enough is my guess.  
Use a (free) product like Nutshell Mail.
 You can track and respond directly from your email.  I've used this product to get a daily summary for years, and I didn't know I can answer from my email!
4. LIST MANIA
How many of your send your enewsletter out every week to everyone on your list?  Try creating multiple lists – one for promotion, one for events, and one for business development.  We're going to do that.  We'll keep our main list for promotions just as it is – everyone is on it.  Then we'll do a special announcement for the other two lists and give people the chance to opt in on it, and we'll do that every month for 3 months.  We'll also include those sign up links in our regular enewsletter.  Actually, we will always include a space in the enewsletter where readers can update their profile – and that is where they can choose which list to belong to.  We're a chamber, we are here to provide value to our business members.  We can do that with an exclusive business development newsletter!
5. OPEN RATE
A high standard in the industry open rate is 28 percent.  However, the closer you get to a core value, the higher your open rate.  If you aren't tracking your open rates and click through rates, you might want to be doing that.  It is a good indicator of who is reading your enewsletter and what they follow through on.  Maybe that subject line is not working so well…..
6. CLICK THROUGHS
Let's talk click throughs.  Text links get more click throughs than buttons or pictures.  Are you putting a clear call to action on your click throughs?  Instead of 'see more pics here' try 'see So and So dancing at the ball'.
7. SEO
Always include your company name in text in the newsletter.  Turns out, Google can search newsletters and your name is searchable (exactly what you want!).
8. ACTION
Keep the key action above the scroll.  Write a couple of sentences that explain the excitement a bit and include the option to click on more — you can use a template with a table of contents.
9. IMAGES
Make all images clickable and with text labels – so many people are not able to see the pictures in their company email.  If you have given good text labels, that can prompt them to view their email in a browser!
10. PDF TRACKING
Convert your minutes, important documents and the like to a pdf and upload them and make them a downloadable link.  You can have a separate list for board members and share your minutes that way.  You can also track who opens the email and who downloads the minutes! Plus it looks really nice.
To receive the Webster City Area Chamber newsletter, you can visit our facebook page here and leave a comment that says "sign me up!"
and we will add you to the list!  (Yes, we are promoting our facebook page!)