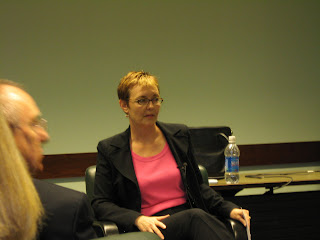 I'm at SOBCon this weekend and have been taking notes.  I'll be sharing those over the weekend.  
Denise Wakeman and Chris Cree The Business and the Blog
Denise:
We are having a conversation today about the intersection/crossroad that Chris and I meet at.  There will be their two different perspectives.
Are you a person who has a blog, and hence is a blogger.  Or do you have a business and use a blog for your business? 
I help professionals leverage the blog, use the tool as a blog – Denise
I come from the opposite side – Chris
Denise is: an online marketing advisor and founder of the blog squad. She uses social media tools to manage their online reputation. Online since 1996. I create massive online visibility for professionals in business.
Chris is: one of the original founders of sobcon, navy guy in fast paced shipping industry. Created the success creeations as a blogging and social media firm.  I had to shift perspectives from consultant to business owner and doing training, live events and public speaking engagements.
Chris, you came from a structured back ground – what caused you to go this new way?
Totally fed up with long hours. I started a hobby blog because I wanted to be a writer. Found out I had an aptitude for that. My wife said I'd better figure out a way to get paid for it or find another hobby. I started selling my services on helping people with wordpress. I knew there was a market because people were willing to pay me.
Did you tell people you were available or did they just come to? It was a little of both. I connected w/someone at first sobcon and knew my background and became a client of mine.
Do you consider your business to be a blog business? Unless you're generating gobs of money from your blog, then a blog is not a business. My blog was my credibility and I get business because of my blog. It's a good calling card to give you credibility as a speaker, especially if you have an audience.
Denise, you've had multiple businesses where you partnered with others – how did you decide who to team up with?
It starts sometimes by accident. My first business was my first husband and we started a consulting business in the mid 90's. It ended when the marriage ended. By that time I had plenty of skills, knowledge and passion about using the internet as a marketing tool. I teamed up with a client on the blogging stuff. I'm on my own again and I'm excited by that. I don't work by myself – I have a virtual team behind me. I don't want to be a technician, I'm more interested in the strategies. I partner with a support team – that is critical for me to grow and succeed. Another level is having joint venture partners.
What are joint venture partnerships? When 2 or more people decide they want to create something together (product, teleseminar series). It will be more powerful bringing in someone that compliments what I do. I found someone, Lou from loutube who knows video ( I really don't). we joint ventured on a teleseminar class. We split the costs, developed it, and then prepared the product. It's a one off experience. We now sell the product from both sides – and we are not tied together. So it's project based – joint venture partnerships.
What are the advantages to doing that? Reach more people. More credibility. I'm now seen as an expert (in video). It helps me reach new markets.
Chris: when it comes to business, business is a team sport.
How does your blog currently fit into your business? Chris: my blog is my website. I am learning how to overall my blog to make it look more like a business. I use my blog to target specific keywords.
Paid search: you buy clicks – buy keyword. Organic search: Google is trolling the web and putting up those organic results. My blog is my credibility. It is also marketing because it pulls in search traffic, some of which converts into business.
What about rss feeds? Those people are following my content. My subscribers are looking for regular maintenance and update tips. My new clients have a problem – they need help with their wordpress fix.
Denise: post minimum of 2-3 times a week. It's important to stay visible.
Chris: I'm not as fixated on the money. I'm a lousy salesperson because I'm not money motivated. My wife is the money person – she's about the bottom line.
The passion is the driver. You gotta do what you are passionate about. It will take you pretty far in your business.
What is the difference between the persona of one person blogging and more than one blogging? Denise has has blogs that are just her voice. Occasionally her partner blogs – but they just keep their own voices so people know they are blogging. Copyblogger is a good example of a blog with multiple authors – blog posts related to copywriting.
How do you go about expanding your image on the web?
Denise: methodically and strategically. I use all the SM tools available. I'm consistent about it – I blog consistently, I'm active on twitter and facebook. I also sign up and create a profile for all SM sites out there – I don't always use them, but I make my profile available. I also make sure I feed my blogs into that bio. I don't know where someone is going to find me. I make sure there are links to my bio, blog and twitter stream. Associate yourself with big thinkers – I'm active on facebook every day. Linked in has a powerful section called answers where you can extend your credibility and thought leadership in your niche. Also you can ask questions and get some great research. I'm pretty strategic about my visibility. I use my blog as my home base. I want to bring people home to my blog – that's where I control my message and content. Biztipsblog.com buildabetterblog.com @denisewakefield @chriscree
subscriptions: rss or email?
Both! Be sure to provide both! 12-13% of blog readers subscribe by RSS. That's it.
What about links inside your blog?
Chris: They are the currency of the internet! I'm all for it! They don't cost you anything. Make them relevant and interesting and apply to write you are writing about. Google sees them as a currency. It's also good for my audience – they can get to the source material. I'm a firm believer in planting and harvesting. So if you plant outbound links, you'll receive lots of inbound links.