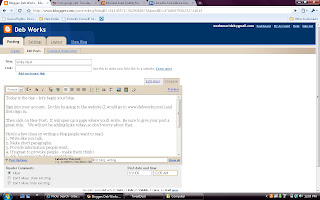 Today is the day – let's begin your blog.
Sign into your accoun
t
.  Do this by going to the website (I would go to www.debworks.com) and then sign in.
Then
click on New Post
.  It will open up a page where you'll write.  Be sure to give your post a great title.    We will not be adding links today, so don't worry about that.
Here's a few clues on writing a blog people want to read
.
1. Write like you talk.
2. Make short paragraphs.
3. Provide information people want.
4. It's great to provoke people – make them think!
5. Ask for comments if you want them.  
See Post Options?
 If you click on that you can enter the date and and time you want your blog post to be active.  I often write 2 or 3 posts at a time!  
See Labels for this post?
 You'll want to put a few words here, separated by commas, that describe what this blog post is about.  As you write more, you may want to display a listing of labels and people can choose to read about a certain topic.
You've just written a simple blog post
!  We have not added pictures – that's another lesson. 
Comments anyone?