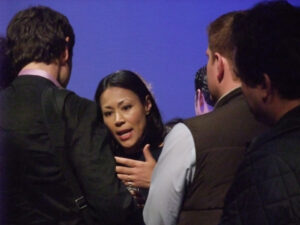 There have been many 140 Character Conferences (now known as the State of Now conferences) around the world.  New York, London, Tel Aviv, LA, Hutchinson, Kansas, Canada.
Des Moines, Iowa is having their second one in just two weeks – April 23.  Des Moines held the first local 140 Character Conference last year.  It was well attended, and well done.
So what's the big deal?  That's the first question I often get, quickly followed by 'Why should I go?'
Over 50  speakers come together and in one day give you this huge, gigantic, humongous look at how the technology of now has changed their lives.  Technology of Now – what is that?  It's the real time internet (where you can read,see and hear about things and events as they are happening).  It's Facebook, twitter, LinkedIn, blog sites, web sites, Ning – anywhere people are talking to each other.  It's grandma's looking at pictures of their grand kids in a country far away.   It's old friends reconnecting with past school chums.  It's students in Iowa talking to students in Sweden – live on Skype.  It's history in the making, and we are living and experiencing it as it happens.  That's the technology of now.
Can you feel the excitement?  Imagine 50 people, talking at a clip of ten minutes a piece, telling you how this technology of now has made a huge difference in their lives.  It's not a how to do it kind of conference.  It's not a technical conference.  It's a conference designed to get your blood pumping and your heart excited.  It's a conference that makes you feel like a kid again – amazed at all the wonderful things in the world you can play with.
What kind of things will hear on the 23rd?  A story of how online connections saved a women's life.  How a small town gardener now travels the world sharing her knowledge.  How restaurants in Des Moines are using the technology of now to bring in more customers.  Funeral home directors talking about using the real time internet.  Pig farmers riding in tractors finding forecasts and futures.  Students and teachers changing lives because they believe you matter.  50 different lives sharing with you the serendipity of living on this planet.  
So take a chance, get a ticket and find out for yourself why this 140 Character Conference/State of Now is so vital and important.  It just might change your life.