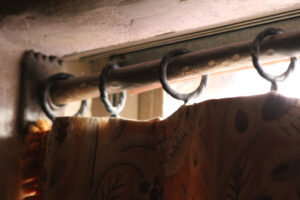 A reader of this blog sent me an email.  She wanted to explain why she went to Wal-Mart.  Now, she's a local small business supporter.  The lesson is: just because you are a small business, you don't always deserve the business.  Customer Service is VITAL.   Here's her story:
The house I recently moved into has gorgeous old woodwork around the windows. The windows are also not flush with the wall, so I decided to use tension rods inside the casements instead of conventional curtain rods nailed to the woodwork or the wall.
I was buying some other items in Shopko and picked up some 28" tension rods for $4.99 each while there.  Even though I thought the price was a bit steep, in the spirit of shopping locally, I purchased them anyway.  When I got home, I realized the rods were too long (probably should buy a tape measure, too!) so I made a return trip to the store.  The only tension rods in the size I needed (24") were $9.99 each!  I asked the clerk why these rods were so much more expensive than the others; she just shrugged her shoulders and said "I have no clue," then walked away.    I sucked it up, bought two (I needed seven) and decided I'd shop for less expensive ones.
Off to Dollar General, which only had one 28" rod in stock. The peg marked for 24" rods was empty.  No one could tell me when there would be more rods coming in.  Granted, it was Sunday, and the weekend crew probably doesn't know as much about the merchandise shipping/delivery process.  I thanked them and went across the street to the hardware store.  I've shopped there often since they're open on Sundays and this seems to be the day of the week when I actually get projects accomplished around home.  They had two styles of 28" tension rods; no 24" rods.  The clerk didn't know if they could order 24" rods and suggested I check back on Monday.
Yesterday, a friend called me from Wal-Mart.  Yes, they had 24" rods for $2.71 each.  Yes, I had her pick up seven rods for me. Yes, I will be returning the $9.99 rods to Shopko. Yes, I always try to shop locally whenever possible.  Sunday's curtain rod excursion, however, does explain why so many people opt to hit the big box stores without even looking in their hometown first.
p.s. Had any of the clerks in the local stores been a bit more customer service savvy, I'd have probably waited until they could order what I needed.  C'est La Vie.
The holidays are almost here, it's a busy time for retailers.  Pay attention to your staff, are they being customer service friendly?  Encourage them to say "I don't know, but let me find out."
The shops mentioned above, Shopko, Dollar General and the local hardware store, are considered local in the town this story is about.  They support other local businesses, donate to local charities and hire local staff.