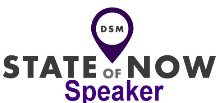 I'm speaking at the 140 Character/State of Now Conference in Des Moines on April 23.
I'm also organizing it.  I do spend some time on Facebook looking for people who just might be an interesting speaker.  We try to do different things in our conference and make it meaningful and exciting for those attending.   Shelly Kramer is one of those people who post interesting links, articles and comments on Facebook, and I like to see what she writes about.  I sent her a link to the speaker page and asked her if she would consider speaking.  She said no.
I pushed.  Then she kindly responded " Truth: I find events where speakers have more than 15-20 mins to be infinitely more valuable to the audience, Deb. And give them real takeaways that they can put to use right away. Would love to come visit Des Moines sometime — so keep me in mind if there's a different opp/conference, etc. that might be a better value/fit. I do really appreciate you thinking of me. And Des Moines is but a hop, skip and a jump away :))"
At first I thought "how dare she, she hasn't been to MY conference!" It only took a minute for me to realize that this is not about me.  It's about her value from having attended 140 Character Conferences before. . It's also the fact that she probably feels that she'll get the same value from our conference.  And that may be true – for her.  I also don't know what may or may not have happened in her experience.
It's also true that you get what you think you'll get.  If you go into any adventure expecting to know the outcome, it usually happens the way you think it will.  It's hard to keep an open mind – to be willing to say "let's just see what happens."  Most of us already think we know what will happen, don't we?  I'm certainly guilty of it!
And here's the thing – the 140 Character/State of Now Conferences are presented in 10-20 minute segments by speakers and panels.  The day flies by.  Some are good, some could be better.  All bring a topic that is important to them.  I have met people who I've only chatted with online at the 140's.  I've been moved to tears by presenters I originally thought wouldn't be very good (see, assuming again).  I've gotten the chance to network with some amazing people in my industry and developed incredible working relationships with them.  I've heard many times that the real value at a conference is often found in the hallways, not in the sessions.
I do my best as an organizer to bring my A game.  I believe in the synchronicity of it all and want attendees to go home feeling that they really experienced something.  And I think you can learn from a 10 minute presentation!  I'm also really happy that Shelly shared her opinion with me.  It helps me strife to do better.
What do you think?  Why do you go to conferences?  What do you hope to get out of the experience? 
p.s. Shelly and I have been having some great conversations online, and I look forward to connecting with her in real life.