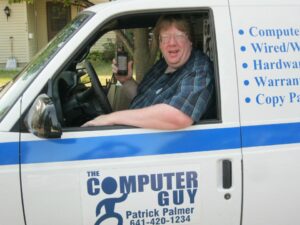 On Fridays we generally post Small Biz Friday.  This guest post is by a small business owner, Pat Palmer, The Computer Guy.  You can read about his business by clicking here.  However, as most small business owners know, it's important to be involved in the community you live in.  Small businesses, pay taxes locally, donate to local charities, support the local kids programs, and do their best to be involved with their friends and families in the towns they live in.  Pat is no different.  So when I found out about the headstones in the parking lot, I knew to call Pat.  He's a genealogy/cemetery guy, and true to his colors, he had answers for me right away.  Enjoy this guest post by Pat Palmer.
Recently a local grocery store was making some new improvements to their parking lot and uncovered some back-fill items, made up of six grave markers.  Naturally, speculation kicked in and people started wondering, was there a cemetery in downtown Hampton? 
The simple answer is "No."
I asked, "May I see the stones?" and was then provided with pictures of them.  As an avid genealogist and a life member of the State Association for the Preservation of Iowa Cemeteries, or SAPIC, I was very much interested.  I got copies of the pictures at 11 am and was going to meet the local newspaper editor at 12:30 pm at the Hampton Public Library.  The time limit we had was an hour and a half.  It was my lunch hour.
As someone who has roamed cemeteries since my 8th grade genealogy assignment in 1978, I went right to work from my computer repair shop, a block away from the excavation.  After viewing 2 of the surnames, "Clock" and "Damm," I automatically said, "Those are Geneva and Maysville area names."
Within 10 minutes, I had found the actual burial location for 3 of the 6 stones, thanks to WPA records that had been published online.  Back in the late 30's and early 40's, as a way to get people back to work, they had various nationwide WPA projects.  The project for Iowa was to inventory our cemeteries.  This was not to look at cemetery records; they were to actually get details and inventory gravestones in cemeteries.
So, if the stones were actually seen in 1939 in a cemetery south of Hampton, why did they end up in a parking lot?  My feeling without even going to the cemeteries is "these were mistakes."  Yes, mistakes.  When I was a child, we lived along Squaw Creek here in Hampton.  I did my share of fishing under the Highway 65 Bridge, next to the monument place.  There were gravestones all up and down the banks of the creek, and they were mistakes.  No one thought that there were a bunch of people buried in the creek and likewise, there was no one buried under the parking lot.  This is Iowa, not New Jersey.
SO, for the actual records of the stones and sources:
Obbo Berg – 1850 – 1909 and logged by a WPA worker in the Oakwood Cemetery in Ackley.
Annie Damm – 1853 – 1889 and logged by a WPA worker and listed in the inventory of the St John's Lutheran Cemetery in Coulter.
Emily Clock – November 11, 1900 and logged by a WPA worker in the Lindenwood Cemetery near Geneva.
Margaret Mullaney – 1840 – 1901 and listed in the Hampton Cemetery Book in the Maple (Catholic) Section under "Mullane" which would have been a spelling mistake on the stone.
Jacob Griner – 1830 – 1895 and I found no records of this burial.
Blank Stone – No records but looked like there was some writing on the bottom part, also could have been in error.
Besides the WPA records, I used the obituary file, cemetery books and microfilm at the Hampton Public Library and the following websites:
www.MaysvilleIowa.com – A site I started back in the 90's to track the history of this ghost town and pioneer cemetery.
www.iagenweb.org/franklin — A site I was honored to be the webmaster of for many years when it was in its infancy.
Our library is a great resource in Franklin County for our genealogy and heritage.  It was good to see Hampton interested in this discover.