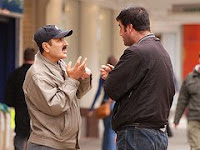 Marybeth and Donald are two of my business partners.  We all have our own businesses, and work with a green company in the consumer direct marketing industry.   Tuesday Marybeth interviewed Don on what it is he is doing to grow his business.  Here is a portion of that interview – followed by my comments. 
Your day job took you out the country but in December you started honing in on your goals. How many new people did you enroll in December?
three!
This month you've picked up the pace, right?
I've enrolled 2 this month already.
You have to evaluate everything that happens in life. I know one thing. 2 years ago I enrolled 10 people into my business. Then my corporate job took me away. But I am limited in corporate America as to the amount of my income. My greatest why is to have unlimited income ability – and to help others have the same thing. This is the business I want to be in and share with others. I have to restrengthen my commitment every day. No excuses – get it done.
Where are you finding the people to talk to?
I talk to people where I am – post office, restaurant, ball park. I assess the situation and might say to them – I'm in the wellness business and I'm looking for people with a certain skill set, who want to build a business, and make some phenomenal income and help others to have better health. Most people are interested!
I have a master contact list – I put everyone in it from wherever I go. Over the past year that list has grown to over 200 people. Now I'm working my contact list.
Donald is emphasizing  two critical activities:
build your contact list
and make appointments
–end of interview segment — 
So what does this interview tell us?  
First of all – talk to everyone!  
Second of all, let people know what it is your are doing.  Now, don't shove it down their throat.  Assess the situation.  If the opportunity arises to include it in your conversation, then do so.  If it doesn't – don't force it! 
You have to remember, this is a business that requires we create relationships.  Any good relationship has two sides to it – yours and theirs.  Make sure you are really listening to people, that you care about what they have to say.  Don't have a conversation where the only thing you are doing is trying to figure out how to talk about your business.  It will show that you are not listening and that you are just trying to 'scam' that person.  
One of the things I've learned while diving into the social media phenomenom, is just this:
IT'S A RELATIONSHIP.  LISTEN AND THEN OFFER WHATEVER ASSISTANCE YOU MAY HAVE.
That assistance may often not be something in your business!  The person you are talking to may NEVER be interested in your business.  They, however, may know someone who is – and give you that referral. 
You never know who you are talking – or who they might know, so don't make assumptions!
picture by polandeze at flickr.com courtesy of creative commons