Craig Sutton is the Managing Member of NetworkTask.com of Kennewick, WA and its web marketing division, BrightWeb Marketing. He is also the Conference Chairman and Speaker at Learn About Web. Craig has 25 years of technology experience, with 10 of them in a Management role. He has provided support for Wordperfect products, has been the Network and Operations Manager for a regional internet service provider, and is now the owner of a highly successful and award winning computer, network, and web services company. He is uniquely qualified to help break down what he refers to as the "barriers of entry" and help small business owners see the value in using web based technologies as a primary advertising medium.
 Craig lives in Richland, WA with his wife, Tracey, of 8 years, and 3 step "kids" (youngest attends college). His work is also his primary hobby, and his goals in life are simple: find a way to help people and make a living doing so in a manner that he can live with.*

I met Craig on www.twitter.com , asked him if he would consent to an interview and he graciously agreed!

www.brightwebmarketing.com I see you have a company that combines internet marketing and print media. What are the percentages on that?

BrightWeb Marketing really focuses on creation of Web Marketing campaigns, including design and development, programming and Search Engine Marketing strategies. We also believe in training customers who want to learn to take control of some or all of the process of Search Engine Marketing on there own. The print portion of the business is seldom used and really has been more of an offering for customers who wish to translate the image of their current web presence with things like magazine ads, business cards, flyers, etc. 95% of our business is definitely in Web Design and Marketing.

What makes you different from any other marketing company? Why do I want to use your services?
Different? Thats always a tough question and tests my desire to be humble. There are a lot of Web companies that do a fantastic job out there! So I will instead tell you what I am most proud of in terms of our working relationship with customers -is attention to detail. From concept to delivery we take the time to help craft a web image that the customer and more importantly THEIR customers will find useful, creative and Usable. The customer is involved every step of the way, and we teach them how to provide input while maintaining customer usability. Your building a trust relationship and this assures great results, both immediately and long term.

I love what you did for Meyers Auto Tech website – great idea for webcam and ask the expert sections. How hard is it to get your clients onboard for these kind of projects? And how has it increased your client's profits to add that to their website?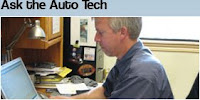 The design was created by Doug Waltman from our firm, and he is just amazing at what he does, we are lucky to have him. The webcam was in place but not working on their previous site, we actually were introduced to the customer when we came in to troubleshoot the webcam problem! The idea was that of the customer, so it wasn't hard  to convince them. The experts section was added to help them use the site as a communication tool for their customers, not a full blog, more of just a simple Q&A. They are a very busy crew!

I've been reading your interviews at thebitboss.com Great job! I've added you to my RSS feed. Why did you decide to interview people?
Thank you. The decision was made for a few reasons. I was looking for a way to get to know some of these people I communicate online with a bit better better and to include others in that discussion as well. I wanted to do so in a way that respectful of time and also challenged me to ask good probing questions. Who knows if I am doing that? I also wanted to find a way to show others some of what I have to offer to the community and thought I would start by giving back to them!
What are three pieces of wisdom your interviewees have shared with you that have impacted how you live your life?
From Amber Naslund: Truth is, I don't. I don't think you ever get "over" the need to be accepted or reassured that you're a good person. But what I have learned over the years is to quit trying to be everything to everyone.
This resonates with me as I try hard to please others and have found myself in the past making mistakes trying to worry more about them and their opinion of me, than working on my own opinion of me. It was interesting to see others admit a need for acceptance.
From Ann Handley: I asked. Seriously… it wasn't any more difficult than that. HuffPo is a great publication, and Arianna Huffington is one of my personal inspirations for what she's accomplished. What's great about the publication is that it is inclusive of all kinds of voices.
A reminder that sometimes the things in life that seem most complex can be handled with the greatest of ease.
From Liz Strauss: Liz always felt that writing came naturally for her.
This is something I feel a natural calm about, communicating ideas to others. I'm a very average writer with a lot of ideas in my head. I had to get over my concerns so I could let what comes natural to happen.
Let's talk weight loss. I know you are on a quest to lose 100 pounds. How is that going?
Not well, I have been hampered a bit by stress and other challenges. I have not given up the fight, I will lose the 100lbs by the 52 week mark. Had lost about 50 last year and the stress and junk food way of handling it helped me put it back on. did that in about 4.5 months so I know its a reachable goal.
How does carrying excess weight affect your self image? What do you do to increase your self image?
Well, it does to some degree. It does make me feel weak to not have the control I think I should over it when I can manage just about anything else in my life. I think the exercise has helped build the self worth. But not everyone feels like I do about this position. Its a very personal battle that is fought for various reasons by people. I joke about it often to lighten my mood about it, but really I know I have to do something about it or it will take me to an early grave. I personally am not O.K. with that idea.
Let's talk computers. You are really an expert in this field. Why should I spend a little more money for a decent computer?
Its simple really, cheap is cheap. If you don't spend a reasonable amount of money on a computer, in my thought no less than $800 for the hardware alone and from a trusted brand, then you are getting an inferior machine and really need to set your expectations low. Think of it this way, a manufacturer is still going to have to make money on these machines, so what suffers? The parts in the machine! We see it all the time in our computer shop, I call the low priced machines "1 and dones", and the average life span is about 1 year before something major happens where the costs of repair exceed 50% of the original costs of the machine. A better machine will also have higher quality parts that are less likely to become outdated as quickly. In the long run, a more expensive machine will save you money!
I have a small business – what do you recommend I do to increase my customer base? (I'm looking to bring people into the social media market here)
What has been working here is networking with others either through your local Chamber of Commerce or by joining/creating a business network group to share tips. If your going to get people into Social Media, you had better be social yourself, and find methods to connect with others and learn what drives them to be successful. I think everyone can do it, but does it make sense for them to invest the time? Like any form of Marketing or Advertising, there is an investment to be made in Social Media and results rarely come instantly.


I live in Iowa and you are out West. How can you help me with my business?
We live in a digital world, with all the secure technologies and ways to communicate without large costs it has become much easier to work from just about anywhere with the right business model. As an IT and Web Marketing company we can help anyone at anytime and share information with customers easily without being right there with them. If you have an internet connection, we can be of service! We currently use technologies such as VPN to make secure connections to customer offices for troubleshooting there networks, or Skype to talk to Web Customers in Denver or Texas. Why not Iowa?
What are the ways to contact you?
I can be reached via phone at 509-783-9558, just say "Sales" to our phone system and it will track me down. I can also be reached via email craigs@networktask.com, or craig@brightwebmarketing.com. Our web addresses are http://www.networktask.comand http://www.brightwebmarketing.com.
Any question I should have asked?
I think you got a lot out of me 🙂


*taken directly from Craig's about me page – now that's how to write a good about me page!