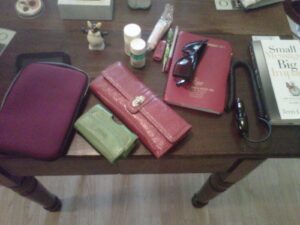 The contents of my purse will tell you just about everything you need to know about me.
1. I'm a geek. Blackberry, Galaxy Tab, car charger and thumb drive — always with me.
2. I'm a reader.  Currently in my purse is Small Message, Big Impact.  If you are in marketing/sales or talk to people about your business or live on the planet Earth – you'll want to read and use this book.  It was a gift from my friend Erin in Chicago – she knows me well.
3. I'm old school. I still carry around a hard copy calendar.  I've tried doing it all online – and people still like it when I pull out my calendar to make an appointment.
4. I like unique things.  The green pen my neice Sarah's boyfriend Eric made for me one Christmas.  It feels beautiful in my hand.
5. I like the color red.  It's not my favorite color (Greek blue is) but red is utilitarian for me.  I can see my wallet, calendar and Tab inside my purse – because they are red.
6. I'm hip and I shop local.  The sunglasses – aren't they great?  I bought them at Orange Possum in Hampton Iowa.  The wallet I got local too.  The Blackberry and Galaxy Tab came from Cell Tech, our local Verizon provider.  The giant sweet tarts and Exedrin Migraine came from Dollar General.
What's inside your purse?