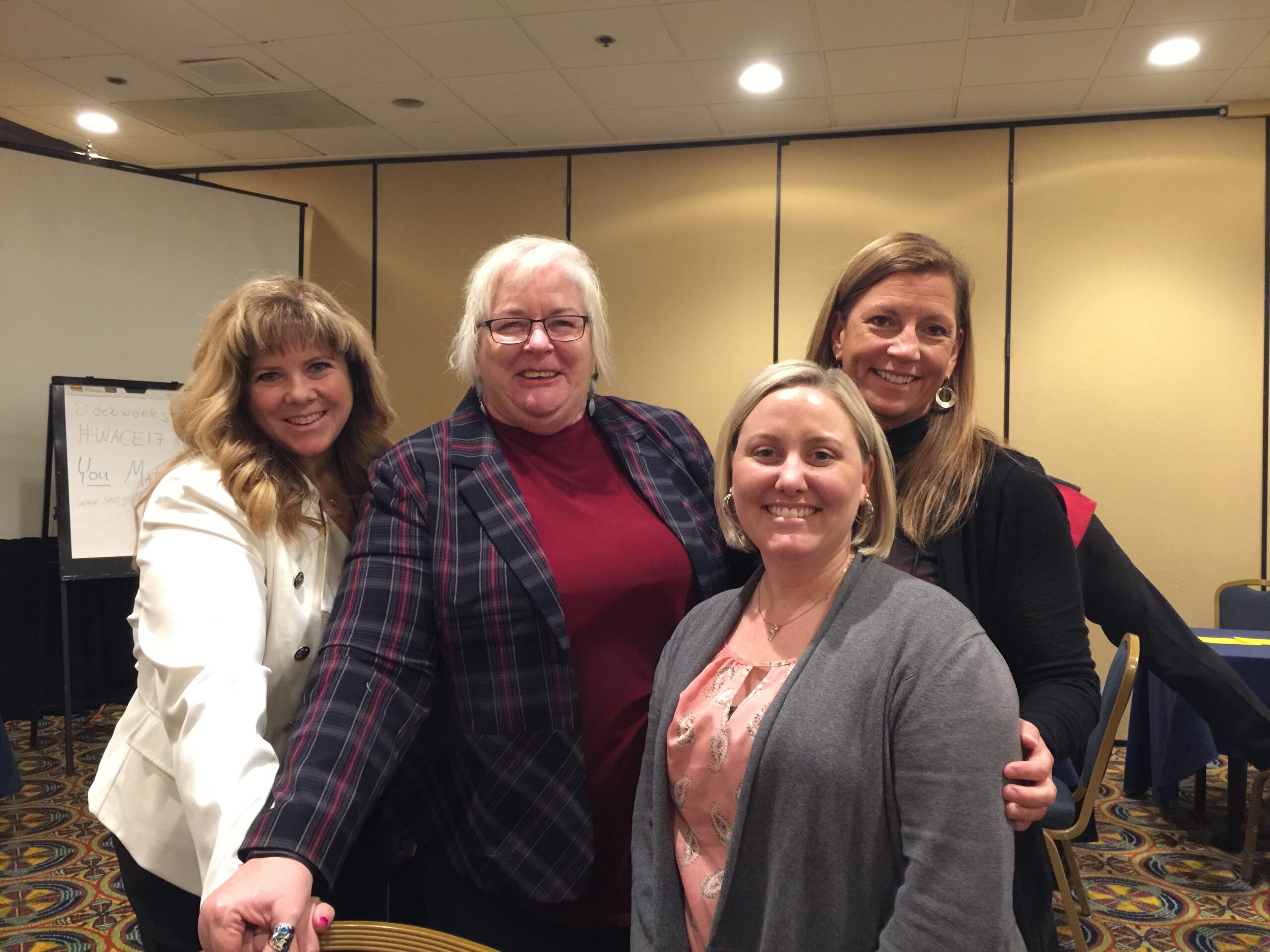 The Western Association of Chamber Executives came together in LA and for the first time ever, they spent an entire day with the opportunity for small chambers to learn things that related specifically to them.
Small Chambers: A League of Their Own.
I started the breakout session as a speaker and shared ways to update old events, new event ideas, discussion on empty buildings, marketing ideas and answered many questions.
A panel discussion followed – where three of the panelists presented, and we all asked questions and answered questions and gave suggestions. All of us in the panel are pictured above and include: Jill Roland-Lagan of the Boulder City Chamber, myself, Michelle Harrington of the Greater Vail Chamber, and Lana Painter of the Sherwood Chamber.
The final session of the day was the Whitewater Round tables. They are named 'whitewater' because you feel like you're on the rapids moving very quickly. There's no time to think through it, you just answer the question. A group of six people sit around the table, each person takes two minutes to answer the question. One person writes down the answers and then the entire group votes on the best answer and shares it with the rest of the group.
It goes fast, and fortunately for me the answer writers were mostly quick and legible! So instead of hearing just 4 answers each to two questions, you'll get to hear all the answers!
This is a great way for any group to share best practices. We had four tables that brainstormed and provided the answers. Originally I was going to credit each person for their idea, but unfortunately I couldn't read all the handwriting and some did not include the info. Feel free to remark in the comments which ideas were yours and share more details if you wish!
BEST WAY TO COMMUNICATE VALUE TO YOUR MEMBERS:
Tiered Dues Infographic
Radio show appearances on business development
Advertising and sponsorship brochure
Recognize each member in speeches
Business spotlight in newspaper
Benefits "leave behind" card
Awards show with 18 awards
Reached out to Indian Casino (largest employer)
Chamber checkup – spend time with 10 members each month and LISTEN to their answers
Year end review and share in prospect packet
Membership breakfast with sharing and booklet
Quarterly Member Luncheon with new member orientation
Door knocking quarterly with surveying of the Business Alliance group
Partner Program /Mentoring – member to member with invites and check ins
One on One: using Constant Contact, newsletter weekly, neighborhood AM networking greet and meet
Printed Handout saying " Do you want to promote your business? Join the chamber and let the Chamber work for you"
Social media: spotlight different members, communicate well, use videos
One on one visits reiterating value – build the relationships
Chamber Chats: What do you do and what do you need and show them how the Chamber can fulfill those requests
Community driven, creative engagement involving talking and asking
Personal Contact and communication, personal invite
Use ambassadors to poll membership certain number of members every month. Using surveys to judge member perception.
Use survey results to build member value.
Ask members to volunteer at events
Review membership packets at a member orientation. Gives members the opportunity to individually see their benefits "Chamber 101" quarterly.
"Chamber Behind the Curtain"- knowledge session for entire community. Make it fun and inclusive. Allow members to share ideas.
"Chamber 180"- "you are the chamber" done individually. Customize the value to each individual member.
EVENT OR NON DUES REVENUE IDEAS:
Cow pie bingo
Danish beer garden with Viking hats and big boobs promos
Tables at the Taste of the Valley
Paid town monument billboard
Annual dinner with silent auction items as table center pieces
"No Pancake" pancake breakfast
Bbq Festival now downtown (was on the golf course, didn't work)
Pooled efforts for cooperative golf tournaments – shared across three chambers and rotated
Mega Multi-Chamber Business Expos
Chamber Awards that are Community Wide
Awards Dinner with spotlight on community, board and members
Visitor Guide and sell your own ads
Taste of Chino Valley with members and non members
Huge City BBQ – $25 gets you samples of everything
City Festival with over 200 vendors and a car show
Flower Power Project – flowers and fairy lights on the light poles (charged sponsors and put up a plaque too)
Travel Tour to China – earned a percentage of each travelers cost
Annual Crab Feed – silent auction and live auction (and hey, crabs!)
Wine and Chili Cookoff two parts- Official chili contest and Community Chili contest
Present Awards and Hold at local RV resort
Leadership Program that is a10 month program. Each class has a sponsor and participant dues $450.00.
Speakers/refreshments are provided by member and community. There is a Non-profit project.
Annual Award Luncheon
Mutts and Member Mixer- Members bring dogs and you sell sponsorships to local businesses, photography is provided, sell admission and create gift bags.
Winterfest 30,000 people come for the Desertbash Poker Run. You sell sponsorships, sell campsites for the poker run and do Lantern Light Off. Sell the sponsor tables and attendees get stamps for visiting the tables.
Taste of the Foothills- Theme based event "Date Night" and you are selling Admission to attendees.